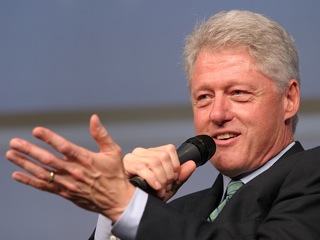 In new emails obtained by ABC News, Bill Clinton sought approval from his wife Hillary Clinton's State Department for paid speeches tied to the repressive regimes of the Democratic Republic of the Congo and North Korea.
The emails were obtained by the conservative group Citizens United, who had to sue the Obama administration to ensure their release. In the first, Clinton Foundation staffer Amitabh Desai emailed the State Department about a potential paid speech in Brazzaville, the capital of the Republic of the Congo.
Clinton would have been paid $650,000 for the engagement, which would have been the highest fee he ever charged. But in exchange, he would have had to take photos with the dictatorial leaders of both the Republic of Congo and the Democratic Republic of the Congo.
"[Bill] wants know what State thinks of it if he took it 100% for the foundation," Desai wrote to several State Department staffers, including Hillary's closest aide Huma Abedin. "We'd welcome your thoughts." Suffice it to say, the State Department shot the idea down.
A month earlier, Desai shot an email with the subject "North Korea invite" to three State Department staffers. "Is it safe to assume [the U.S. Government] would have concerns about [Bill] accepting the attached invitation related to North Korea?"
The response from Hillary Clinton chief of staff Cheryl Mills was curt and immediate: "Decline it."
But a few weeks later, Desai was still asking about the North Korea invite (the details of which are still unknown). She told Mills that the invite came from Hillary's brother Tony Rodham. "We would be grateful for any specific concerns that we could share. Tony is seeing [Bill] in a couple hours."
[Image via Shutterstock]
——
>>Follow Alex Griswold (@HashtagGriswold) on Twitter
Have a tip we should know? [email protected]