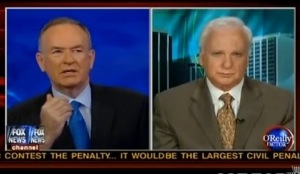 Have we seen this clip before? In the context of alleging that the media coverage has marginalized the Tea Party movement, the topic turned to coverage of the Obama Administration. Bill O'Reilly surmised that the media has begun to see their role "..not to inform anymore but to defend a sitting administration. That's corruption." Guest Bernie Goldberg couldn't agree more. Talk about a Slobbering Love Afair.
Goldberg brought the topic back to the Tea Party protesters during the passing of health care bill, specifically, the allegations of racial epithets hurled at African-American members of congress.
In the case we are talking about Tea Partyers racism and all of that and absolutely disgraceful comment by congressman Cohen, he based that comment on news reports of racial slurs and spitting. The more i look into this, Bill, the more I'm convinced that it never happened. Now, if it did, it is shameful, period. But one congressman, a black congressman said that he heard the ""n"" word shouted 15 times. Shouted. Not whispered. Not once but 15 times. you think somebody else might have heard that John Lewis, I don't buy into his politics but is he a civil rights hero. He hasn't come on this show or any other show to say they called me the ""n"" word. The third ranking democrat in the house, another member of the black caucus James Clyburn says "I heard terrible things out there". But when he went on television he said I never heard any racial slurs. The spitting incident, when you hear that a white demonstrator spit at a black congressman a certain image pops into your head but when you look at the videotape, that's not the image.
The "say it, don't spray it" Incident may not have been the "spat upon" evidence that was once claimed. But when a protester is so pitched in his or her yelling that saliva is projected onto a congresssman's face…well, that hardly absolves the situation, does it?
As Alex Pareene asked in his post on Gawker, if "It Isn't on YouTube, Did It Really Happen?" Apparently not. Somehow, the claims of our own elected officials and civil rights heroes can not be taken at face value, unless footage exists that can corroborate the claim.
Have a tip we should know? tips@mediaite.com