Bill O'Reilly on Jon Stewart: He 'Actually Thinks About Things from Time to Time'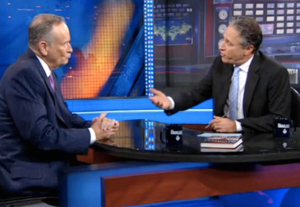 One of the strangest professional friendships in modern political media is shared (rather publicly) by Jon Stewart and Bill O'Reilly, two sides of a very confused coin. Hence why Deadline asked O'Reilly to write a short "appreciation" of Stewart ahead of The Daily Show host's retirement on Thursday.
O'Reilly obliged, and it's pretty much what you would expect it to be — honest admiration and respect, albeit mostly contextualized by jokey insults, insulting jokes and everything else that leaks through that particular umbrella.
According to O'Reilly, writing his appreciation of Stewart "requires personal experience which, God help me, I have." Whether you interpret that line as hilarious or degrading, the rest of O'Reilly's short essay follows much of the same schematic.
There's O'Reilly on Stewart's being a decent comedian in his own right:
Far more than a comedian dependent upon a squad of jaded writers, Stewart actually thinks about things from time to time. He's good at spotting phonies and is quick with a quip when challenged. I always looked forward to verbally jousting with the man even though, at times, I confused him with facts and I felt bad doing it.
There's O'Reilly making fun of Comedy Central's primary demographic (an oldie but a goodie):
Jon Stewart is being held captive by a self-imposed left wing view of society. That has served him well in the marketplace as his audience of young stoners and aging guys with ponytails lap up his snarky liberal talking points. I'm sure he would reply with a sardonic put down of my audience as out of touch white people, but then again most folks who watch me actually held a job at some point.
Of course, let's not forget O'Reilly's recognition of his ability to defeat Stewart in forensic battle:
The thing about Stewart is that he will concede a well made point… Stewart made his points, I made mine. At the end of the discussion we had a few laughs as we always do.
Yet despite all of his grandstanding, O'Reilly is mature enough to acknowledge that The Daily Show host "is not a malicious man by nature." "You can reason with him when he's sober," the Fox News pundit concludes.
Despite the comedian's impending retirement from the Comedy Central empire he helped built over the last 16 years, here's to hoping Stewart still makes the occasional visit to The O'Reilly Factor. Watching these two personalities go head-to-head is probably the closest we'll ever get to a real-life Magneto vs. Professor X scenario.
[h/t Uproxx, Deadline]
[Image via screengrab]
— —
>> Follow Andrew Husband (@AndrewHusband) on Twitter
Have a tip we should know? [email protected]