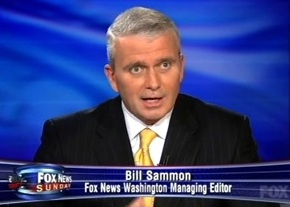 Another in a series of potentially embarrassing internal memos authored by Fox News Managing Editor Bill Sammon has recently been leaked, and this one is a doozy. The memo, sent a week before Election Day 2008, reads like the oppo research "fact sheets" that the various presidential campaigns sent out to reporters during that election cycle, with a key difference. The source, in this case, was not a politician's press office, but the Washington deputy managing editor of a major news network.
The memo comes from mortal enemy of Fox News and liberal media watchdog Media Matters, who has now released three in a series of these sorts of of internal emails from Sammon.
Previous memos from Sammon have instructed Fox News talent on how to frame discussion of health care reform and climate change, and while they were embarrassing, this one goes straight at the question of political bias, in at least the D.C. bureau of Fox News. Sent in the wake of a Barack Obama interview that surfaced in the closing days of the 2008 campaign, Sammon's memo collects quotes from Obama's autobiography, Dreams of My Father, that Sammon said claimed "references to socialism, liberalism, Marxism and Marxists," along with "a couple of his many self-described 'racial obsessions'."
Fox News has consistently rested its credibility on the premise that there is a dividing line between their "straight news" and "opinion" programming. But Sammon's status as a "straight news" editor, and his use of this "research" on Fox's Live Desk raise legitimate questions about that separation, or at least blurs a line that should be clear cut.
There are many fine journalists who work at Fox News. Sammon's continued presence at the network threatens to diminish their work, and you have to wonder how long the talent at Fox News will put up with embarrassments like these before they head out the door, or before Sammon does.
Given the hyper-partisan landscape of current opinion media, there are many who will willfully dismiss this report only because it came from Media Matters. But the memo itself is pretty damning, regardless of one's political opinions. You can see the full memo at Media Matters.
Have a tip we should know? tips@mediaite.com