Bobby Jindal Slams Romney For Saying Obama Won Because Of 'Gifts': 'Stop Dividing American Voters'
Jindal Slams Romney For Saying Obama Won Due To 'Gifts': 'Stop Dividing Voters'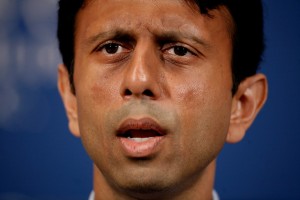 Louisiana Governor Bobby Jindal is not shying away from giving the Republican party advice on its messaging following its big election loss last week. Yesterday he said the party needs to stop peddling "dumbed-down conservatism," and today he strongly rebutted Mitt Romney's claim that President Obama won reelection because of the "gifts" he gave to key voter demographics. Jindal said that comments like Romney's divide Americans and are the kind of thing the GOP needs to stop saying if they want to win over more voters.
RELATED: GOP Gov. Bobby Jindal: Republicans Need To 'Stop Insulting The Intelligence Of The Voters'
Romney said that Obama promising benefits like health care and amnesty for illegal immigrants helped him win reelection. Jindal said he "absolutely reject[s]" what Romney said, and that he wants the Republican party to work for everyone's vote by explaining how their policies benefit people who want to make it in America.
One, we have got to stop dividing American voters. We need to go after 100 percent of the votes, not 53 percent — we need to go after every single vote. And second, we need to continue to show that our policies help every voter out there achieve the American dream, which is to be in the middle class, which is to be able to give their children the opportunity to get a great education, which is for their children to have even better-paying jobs than their parents.
Jindal warned that for the Republican party to stay "competitive" in future elections, it has to show the electorate it is working to win every person's vote, and not disparage different groups of Americans.
h/t TPM
Have a tip we should know? tips@mediaite.com
Josh Feldman - Senior Editor