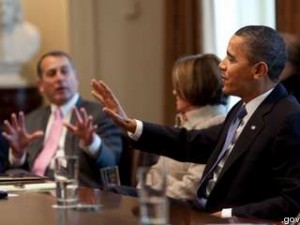 House Speaker John Boehner is catching a lot of flack for missing last night's memorial service in Tucson, reportedly declining an Air Force One invitation from President Obama in order to slap backs and clink glasses at an RNC event.
But a look at the timeline of events paints Boehner in a better light.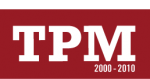 Yesterday, House members attended a vigil for victims of the Arizona shooting spree in an auditorium underneath the Capitol Visitor's Center. As they trickled in, a House aide provided reporters, including me, a glimpse at the program of events and list of speakers. There was one small revision to the schedule, though: Minority Whip Steny Hoyer would be reading Minority Leader Nancy Pelosi's portion of scripture, because she was on her way to Tucson with the President.
If Boehner had accepted the invitation, then the leaders of both parties would have missed the Wednesday vigil.
Presented with this recollection of events, Boehner's spokesman Michael Steel confirmed, and defended his boss. "Boehner would not have been able to attend the bipartisan prayer service if he'd gone to Tucson," he said. "Yesterday, Rep. Giffords' colleagues on both sides of the aisle honored her and mourned those who were lost. The Speaker felt his place was here in the House, with them."
Boehner's also getting knocked around a bit for what he decided to do while in DC: he attended an organizing event for Maria Cino, whom he's supporting to chair the RNC. But though that may have entailed chatting up donors over cocktails, Steel says he spoke for three minutes and left the event in time to watch Obama's speech on television. And while he plausibly could have made it out to Tucson separately in time for the service, Boehner would most likely have had to charter a military plane, to which he has access as Speaker. Republicans criticized former Speaker Pelosi for traveling via military air during her tenure, and Boehner has committed to commuting to his Ohio district on commercial flights.
Talking heads noticed his absence, and criticized him after Obama's speech ended, and Democratic aides piled on in anonymous quotes to Politico and the Daily Caller. But the narrative taking hold — that Boehner rejected a ride on Air Force One in order to attend an RNC event — is more complicated than the soundbites.
(Note this article was written by Brian Beutler for Talking Points Memo and is republished here via a content sharing agreement.)
Have a tip we should know? tips@mediaite.com