Book Alleges Bill Clinton Called Obama An 'Amateur,' 'Incompetent' And Begged Hillary To Run Again
Book Alleges Bill Clinton Called Obama An 'Amateur,' 'Incompetent'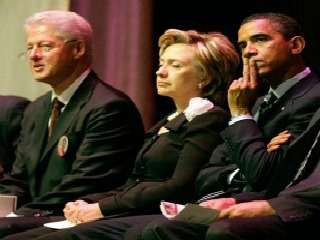 A new book alleges that former President Bill Clinton described President Barack Obama privately as an "amateur" and "incompetent" and asked his wife, Sec. Hillary Clinton, to run against Obama again in the 2012 primaries.

RELATED: New Obama Ad: Would Romney Have Ordered Bin Laden Raid?
The New York Post reported on Friday that author and former New York Times Magazine editor Edward Klein's new book, an unauthorized biography of President Obama entitled The Amateur, contains explosive revelations about President Clinton's true thoughts about his fellow Democratic president.
According to the book, Bill Clinton unloaded on Obama and pressed Hillary to run against her boss during a gathering in the ex-president's home office in Chappaqua last August that included longtime friends, Klein said.

"The economy's a mess, its dead flat. America has lost its Triple-A rating . . . You know better than Obama does," Bill said.
The book alleges a dramatic exchange between Bill and Hillary Clinton over her political future and the future of the nation:
Obama, Bill Clinton said, "doesn't know how to be president" and is "incompetent."

But Hillary resisted the entreaties, according to two of the guests interviewed for the book.

"Why risk everything now?" a skeptical Hillary told her husband, emphasizing that she wanted to leave a legacy as secretary of state.

"Because," Bill replied, his voice rising, "the country needs you!"

"The country needs us!" added Bill.
When Hillary Clinton said that she had the option of running again in 2016 and insisted she had no intention of running in 2012, President Clinton pressed:
"I'm the highest-ranking member in Obama's Cabinet. I eat breakfast with the guy every Thursday morning. What about loyalty, Bill? What about loyalty?" she responded.

"Loyalty is a joke,'' Bill shot back. "Loyalty doesn't exist in politics."
Clinton has recently been tapped by the Obama campaign to help fundraise and increase voter enthusiasm – he recently appeared in a high profile campaign video that touted Obama's success in ordering the operation that resulted in the death of Osama bin Laden.
h/t New York Post
Have a tip we should know? tips@mediaite.com