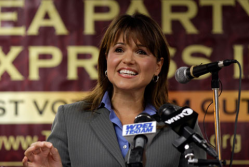 This will no doubt come as a total shock to anyone who's been paying attention to this year's crop of (frequently bizarre) campaign ads. Politifact — the non-partisan fact-checking group Jake Tapper charged with reviewing his This Week panels earlier this year — has reviewed candidates claims this year and concluded they are "barely true."
After rating hundreds of claims in the 2010 election — from TV ads, debates, interviews and mailings — we're giving an overall Truth-O-Meter rating to the campaign.

We rate it Barely True.

In a majority of claims checked this fall by PolitiFact and our eight state partners, we found a grain of truth, but it was exaggerated, twisted or distorted. (We define Barely True as a statement containing some element of truth, but it "ignores critical facts that would give a different impression.")
Indeed. So who were the worst offenders.
Republican Christine O'Donnell claimed that Chris Coons, her Democratic opponent for Delaware's U.S. Senate seat, "thought a 911 call should be taxed." But we found that was a big stretch because landline telephones had long been taxed to support 911 service. What Coons did was extend the tax to cell phones because of a sharp increase in their use for 911 calls.
Barbara Boxer also got called out for saying Carly Fiorina's "plan would mean slashing Social Security and Medicare." Perhaps the saddest thing about these results is how unsurprising they are. It seems the only requirement for a good campaign ad these days is whether or not it goes viral, not whether or not it is true. Full results here.
Have a tip we should know? tips@mediaite.com