One of the most horrifying images of the Syrian refugee crisis has been the photo of a drowned three-year-old who washed up on a beach in Turkey. But Charlie Hebdo is now getting some criticism online for two cartoons it ran invoking that image.
Here are the cartoons in question: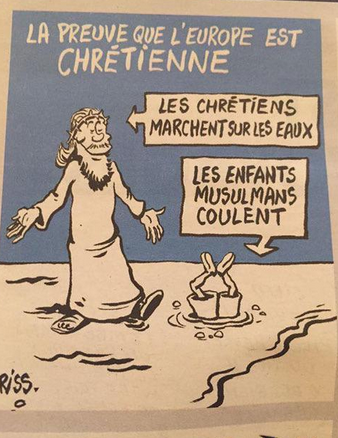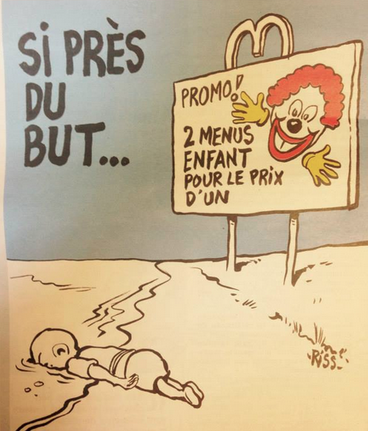 According to Haaretz, the first one is headlined "Proof that Europe is Christian" with the two bubbles saying "Christians walk on water" and "Muslim children sink." The second one is captioned "So close to making it…" and the McDonald's sign says, "Two children's menus for the price of one."
The New York Times points out that people upset at the images are outraged without fully understanding the context:
Mr. Sourisseau made it clear that his intended target was what he called the hypocritical response to the crisis by European leaders and the public. After comparing indifference to the plight of the migrants in France to attitudes toward Jews in 1941, the cartoonist mocked statements by the Hungarian prime minister, Viktor Orban, who suggested that an influx of Muslims from the Middle East threatened efforts to "keep Europe Christian." Mr. Sourisseau argued that this vision of Europe seemed to be based on a version of Christianity from which the ideal of Christian charity had been removed.
One of the cartoonists explained that the intended target of mockery was, of course, not the boy, but "the consumerist society that is being sold to them like a dream."
[images via screengrab/Charlie Hebdo]
— —
Follow Josh Feldman on Twitter: @feldmaniac
Have a tip we should know? tips@mediaite.com
Josh Feldman - Senior Editor