China And Russia Veto UN Resolution Condemning Syrian Crackdowns, Face Strong Backlash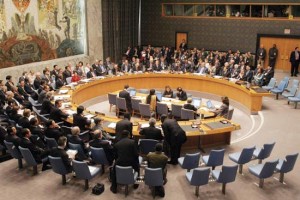 The United Nations Security Council held a vote on a resolution to formally condemn Syrian leader Bashar al-Assad for his crackdowns against the protests being organized by opposition groups. 13 of the 15 nations on the Security Council voted in favor of the resolution, but both China and Russia vetoed and effectively killed it. Already both nations have faced strong condemnations from Syrian opposition forces and several ambassadors to the United Nations.
RELATED: Rick Perry Tells Fox Panel He Supports A Unilateral No-Fly Zone Against Syria
Susan Rice, the United States ambassador to the U.N., tweeted yesterday that she was "disgusted" that the two nations were keeping the Security Council "from fulfilling its sole purpose." Both she and President Obama have come out fiercely against the Syrian regime, with Obama saying yesterday that Assad needs to "halt his campaign of killing and crimes against his own people now."
The UK Foreign Secretary William Hague accused Russia and China of "turning their backs on the Arab world." Here is how both nations attempted to explain their opposition to the resolution:
Russia's Deputy Foreign Minister Gennady Gatilov defended Moscow's position.

"The authors of the draft Syria resolution, unfortunately, did not want to undertake an extra effort and come to a consensus," he wrote in a Twitter message.

China's state news agency Xinhua ran a commentary piece saying the two countries believed more time and patience was needed to solve the crisis.

The double veto "aimed at further seeking peaceful settlement of the chronic Syrian crisis and preventing possible drastic and risky solutions", said the commentary by Yu Zhixia.
RELATED: Ahmadinejad To Fareed Zakaria: Iran Will Encourage Syria To 'Reach An Understanding' With Protesters
Meanwhile, the Syrian ambassador has spoken out against the U.N. members in favor of the resolution for supporting "armed terrorists." An opposition group said that roughly 90 people were killed just yesterday, and has organized a civil strike to begin today.
h/t New York Post
Have a tip we should know? tips@mediaite.com
Josh Feldman - Senior Editor