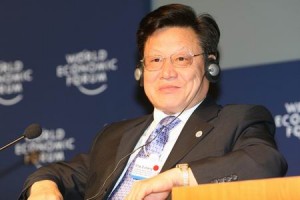 Sha Zukang, China's top U.N. Diplomat and the UN undersecretary general for Economic and Social Affairs, doesn't like his boss or his colleagues and had a bit too much to drink at a work retreat.
Foreign Policy reports that Sha went on a 15 minute drunken ramble while attending a dinner for top U.N. officials in the Swiss Alpine resort town of Alpbach. After taking the stage, he warned the audience that "wine affected me a little…I want to say something that's on my mind."
He then addressed U.N. Secretary-General Ban Ki-moon, stating, "I know you never liked me Mr. Secretary-General — well, I never liked you, either." In true drunk fashion, he elaborated that he never wanted his UN post, saying, "It was the last thing I wanted to do. But I've come to love the U.N. and I'm coming to admire some things about you."
A U.N. official reported that Secretary-General Ban responded to his comments by smiling and nodding awkwardly, as one does.
Sha then turned his attention to American U.N. official Bob Orr, remarking, "I really don't like him: he's an American and I really don't like Americans."
According to Foreign Policy, Sha spent the following day "out of sight," no doubt sleeping it off, before meeting with the Secretary-General to apologize.
Sha has a reputation for speaking his mind even while sober. During a 2006 interview with the BBC, he responded to US criticism of China's military build up by advising the United States to "shut up." In 2009, he was frustrated by audience members failing to quietly take their seats at the Internet Governance Forum in Sharm El Sheikh. After banging his gavel and screaming at the audience, Sha said "I know… that I am offending everyone, which I do not care."
Video of that outburst is below; the fun starts at 1:50.


Have a tip we should know? tips@mediaite.com