Choosing Your Battles: Obama Golfing With Tiger Woods Is The Least Of His Transparency Problems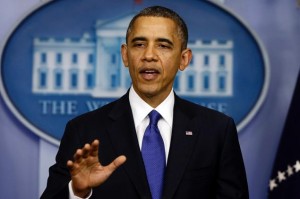 You may have heard about the dust-up between the Obama administration and the press corps over a lack of access to the president during a golfing vacation. The complaint was lodged by Fox News' Ed Henry, the president of the White House Correspondents Association. I agree in principle that Obama should be more open with the press, but 1) complaining about not being able to take pictures of the president on vacation is silly, and 2) there are bigger issues Obama has on transparency than not letting people see him golf.
RELATED: 'This Has Been Most Transparent Presidency': Megyn Kelly Panelist Disputes Complaints Over Obama Access
First off, I find it interesting that the press corps is complaining about access to Obama, when this same exact press corps has been described as "fawning" over the president. Michael Hastings, hardly a Fox-ite, wrote as much in his special e-book for BuzzFeed, accusing Obama's press corps of acting "juvenile" and "amateurish" in his presence. So people aren't exactly going to feel sympathetic for this press corps' inability to snap a photo of Obama holding a putter.
No one cares if we don't get to see Obama golfing with Tiger Woods. Even Charles Krauthammer dismissed the story as completely ridiculous. This is the president, not Kim Kardashian. We don't need to see every single detail of Obama's life. Henry defended his complaint earlier today by insisting that "it's about transparency and access in a broader sense," which is what it should REALLY have been about to begin with.
Obama recently defended his administration as the "most transparent" in history (please not this was not in response to a question by the White House press corps, but during a Google+ hangout). But is this claim actually accurate? Last year, one Washington lawyer said that of the six administrations she has worked beside on Freedom of Information Act issues, the Obama administration has been the worst. Obama has come under heavy criticism for his administration's prosecution of whistleblowers, and even after signing a whistleblower protection act into law last November, he issued a signing statement following the passage of the National Defense Authorization Act objecting to whistleblower protections in the legislation.
In fact, the level of transparency in the Obama administration, as concluded by this POLITICO piece and a column in Poynter this week, has been on the data released to the public that the latter points out is just "expected along with the world's advances in technology and human connectivity." Shouldn't this be more of a concern to anyone on the issue of presidential transparency than whether or not we get to see Obama golfing?
Glenn Greenwald summed the press corp complaining up in his column today.
Notably, these "frustrated" White House journalists now complaining about a lack of "transparency" aren't objecting to Obama's concealment of multiple legal documents which purport to authorize radical powers he claims or to his war on whistleblowers. Instead, they're objecting that the White House doesn't "cooperate" with them enough.
Maybe if Obama spent his vacation flying drones with Tiger Woods instead…
—–
Follow Josh Feldman on Twitter: @feldmaniac
Have a tip we should know? tips@mediaite.com
Josh Feldman - Senior Editor