Christie Inadvertently Advocates 2nd Amendment Repeal: 'Why Not Just Ban Guns Completely?'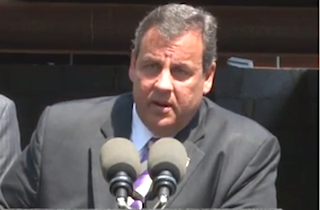 New Jersey Governor Chris Christie is taking some heat this week after he decided to veto a bill that would have banned the sale of ammunition magazines carrying more than 10 rounds. During an event on Monday, Christie attempted to explain why he decided to send the bill back to the state legislature with the 10 round limit removed, but ended up inadvertently making the case for a complete ban on firearms.
"I've heard the argument and so are we saying then that the 10 children, on the clip that they advocate for, that their lives are less valuable?" Christie said of the 10-round clip that would remain legal under the new law. "If you take the logical conclusion of their argument, you go to zero because every life is valuable."
"And so why ten?" he continued. "Why not six? Why not two? Why not one? Why not zero? Why not just ban guns completely? I mean, you know so the logical conclusion of their argument is that you get to zero eventually."
Christie proceeded to say he feels "sympathy" for the people who support the legislation, including parents of children killed at Sandy Hook Elementary School in 2012, who traveled to Christie's office last week with a petition signed by 55,000 people who wanted him to sign the bill.
"You know wanton gun violence is bad no matter how it's conducted and I understand their argument," Christie said. "I've heard their argument. I don't agree with their argument. We have a fundamental disagreement about the effectiveness of what they're advocating for."
With these latest words and others on the issue, Christie appears to saying that a limit of 10-round magazines would not be an effective way to prevent the type of gun violence that took the lives of those 20 small children in Newtown, Conn. But since no state legislature in this country is likely to "ban guns completely," as Christie has now said would be a more effective approach, this incremental step would be a strong step in the right direction.
If Christie in fact believes that guns containing "zero" rounds of ammunition are safer than guns that can hold up to 30, then why is he so hesitant to sign modest legislation that compromises at 10? Could it be that he thinks this supposed weakness on gun rights could come back to haunt him in 2016?
Watch video below, via Christie's YouTube channel:
[Photo via screengrab]
— —
>> Follow Matt Wilstein (@TheMattWilstein) on Twitter
Have a tip we should know? tips@mediaite.com