Christie Staff's 'Bridge-Gate' Emails Show GOP Officials Celebrated Misery of Dem Voters' Kids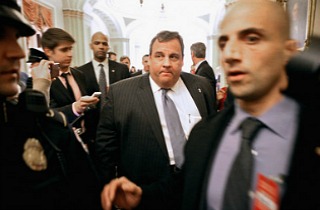 It's always the cover-up.
On its face, the allegations that New Jersey Gov. Chris Christie, cruising to reelection in 2013 with a nearly 20-point lead in public polls, would attempt to exact retribution against a local mayor for not endorsing his reelection bid by closing two lanes of the George Washington Bridge seems… disconnected.
The governor denied that politics played any role in the decision to approve of a traffic study on the bridge, quietly and without notifying Fort Lee Mayor Mark Sokolich or his staff, last September. While Sokolich insisted that the lane closures were a form of retribution from Trenton, Christie chided the media for being "obsessed" with a story that was "not that big a deal."
Indeed, early reporting from the sterling journalists at The Record, a Bergen County paper, revealed that Port Authority Executive Director Bill Baroni met with Sokolich face-to-face in September, 2010 at the Fort Lee mayor's request to discuss ways in which the traffic gridlock on the George Washington Bridge could be eased.
But newly revealed emails, also obtained by The Record, also show that Christie officials reveled in the lane closures particularly because they would force Sokolich and his constituents to endure some serious traffic woes.
RELATED: 'Bridge-Gate': CBS News Digs Into Scandal 'National Democrats' Think Might Sink Christie
"Time for some traffic problems in Fort Lee," Bridget Anne Kelly, one of three deputies on Christie's senior staff, wrote to David Wildstein, a top Christie executive at the Port Authority, on Aug. 13, about three weeks before the closures. Wildstein, the official who ordered the closures and who resigned last month amid the escalating scandal, wrote back: "Got it."
Among the officials mentioned or copied on the emails include Christie's reelection campaign manager and the newly appointed state GOP chairman.
In a subsequent text message exchange, Wildstein received messages from an individual whose identity was redacted, asking if it is "wrong that I'm smiling" over the lane closures potential to exacerbate the troubles that school busses were having navigating around the snarled bridge traffic.
"No," Wildstein replied.
"I feel badly about the kids," the unknown individual added. "I guess."
Wildstein sought to assuage this person's concerns with a darkly humorous quip about why these children did not merit worry. "They are the children of [Democratic gubernatorial candidate Barbara] Buono voters," Wildstein replied.
Both Baroni and Wildstein have resigned, further indicating that some form of malfeasance or malicious negligence was at play here.
Were the lane closures, as some have indicated, the execution of a petty vendetta? Those consumed with the abiding belief that Christie is a "bully," a refrain echoed in three separate Democratic National Committee videos on the lane closures, are likely to be convinced that these revelations are proof of their already firm conviction.
But there is little evidence yet relating to this controversy to back up that assertion. What is certain, however, is that the governor's close aides were aware of the frustrations that lane closures on the George Washington Bridge would cause for Fort Lee's mayor and took some glee in that condition. This is unconscionable bad form and, while probably par for the course in the blood sport of American politics, sentiments like those expressed by Wildstein are certainly distasteful.
There is as of yet, no evidence to implicate the governor himself in an effort to punish Fort Lee's governor with a traffic study, but this story has popped and every political reporter in America has fully tuned in to the first scandal that could potentially derail the GOP's strongest possible presidential candidate heading into 2016. If any further revelations relating to "Bridge-gate" exist, Christie would be well-advised to get out in front of them soon.
As scandals go, the idea of a punitive traffic study initiated following the mayor's consultation is rather weak fare. But it's never the scandal that does the most damage.
For the first time, Christie has been put firmly on the defense and will have to skillfully navigate a political landscape marked by a newly aggressive press to emerge unscathed.
[Photo via AP]
This post has been edited since its original publication.
— —
> >Follow Noah Rothman (@NoahCRothman) on Twitter
Have a tip we should know? tips@mediaite.com