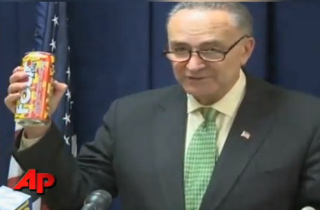 Thursday evening, Reason reporter Garrett Quinn attempted to ask prominent Democratic Sen. Chuck Schumer about whether the Obama administration would change course on the war on drugs during a second term. The senior senator from New York blew off Quinn and dismissed the questions.
Before his presidency, Barack Obama was an outspoken supporter of decriminalizing drugs and scaling back the drug war. Despite blatantly reversing such views once he got into the White House, some political analysts have speculated that, should he secure a second term, the president will institute his truly desired reforms.
"I'm not gonna comment on that," Schumer told Quinn when asked whether that is likely, "I don't know the details that you're talking about." The reporter had confronted the senator in the concourse area of Charlotte's Time Warner Cable Arena.
Aside from 2010 legislation to narrow the sentencing disparity between crack and cocaine convictions, this administration has largely done nothing by way of reforming and/or ending the failed war on drugs. In 2009, the Obama Justice Department released a memo declaring state-legal medical marijuana dispensaries to be low priority for law enforcement; but the administration eventually overrode that memo with one that emphasized that dispensaries are illegal under federal law, "regardless of state law."
The 2012 Democratic Party platform does not mention anything about the ongoing drug law, and so Quinn asked Schumer: "Do Democrats care about the drug war?"
"I am not gonna answer that," Schumer said, reportedly putting his hand near Quinn's face to wave him off.
Of course, Schumer may not be the best person to ask such a question. Had Quinn asked him, say, "Do Democrats care about banning Four Loko?" or "Do Democrats care about banning synthetic marijuana?" or, perhaps, "Do Democrats care about banning bath salts?" Schumer's response would've been much more enthusiastic.
Likely something along the lines of: "Bath salts? Yeah, I know a lot about bath salts! Scourge of society, I tell you. Get me a TV camera and I'll tell you all about my plans to ban that!"
[h/t Reason]
— —
>> Follow Andrew Kirell (@AndrewKirell)
Have a tip we should know? [email protected]
---