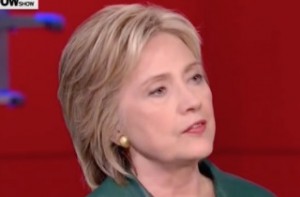 Hillary Clinton's campaign backtracked Tuesday after the Democratic presidential hopeful suggested that problems at the Department of Veteran's Affairs are exaggerated and politicized by Republicans.
Clinton told MSNBC's Rachel Maddow Friday that the problems in the VA are not "as widespread" as they're made out to be.
As a chorus of criticism mounted against her, Clinton's press secretary Brian Fallon said in a statement to CNN that Clinton recognizes there are "systemic" issues in the VA, and "will work to further reform the VA to make sure it truly works for our veterans, and will demand accountability and performance from VA leadership."
Following her appearance on The Rachel Maddow Show, Sen. John McCain condemned Clinton's "disgraceful" remarks and demanded an apology from Democratic frontfunner.
"I don't know what Hillary Clinton's view of what 'widespread' is but facts are stubborn things," McCain said, adding that "she owes an apology" for allowing "her blind ambition" to inject "partisanship into the VA issue."
Rep. Jeff Miller, chairman of the House Committee on Veteran's Affairs, also criticized Clinton. "Whether it's continued delays in veterans' medical care, the blatant waste of billions of taxpayer dollars, or a rampant lack of accountability throughout every corner of the organization, there is simply no denying that the problems at the Department of Veterans Affairs are indeed widespread," Miller said.
Fallon said that Clinton's comments are being "misinterpreted," acknowledging that, "even now, too many of our veterans are still waiting an unacceptably long time to see a doctor, or to process disability claims and appeals."
Still, Fallon said Clinton "does not believe that privatization will solve the problems" plaguing the VA. "It must deliver high-quality care while acting as an integrated payer-purchaser and facilitating a full range of services for all veterans, regardless of where they live," Fallon said.
Fallon added that despite systemic problems, "The VA provides unique and critical services and innovative care to our veteran community."
[Image via screengrab]
—
>> Follow Elizabeth Preza on Twitter (@lizacisms)
Have a tip we should know? tips@mediaite.com