CNN Analyst: Student Pulled From Desk 'Probably Has No Respect at Home or on the Street'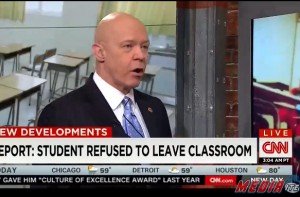 Former New York City cop Harry Houck told CNN Host Chris Cuomo Tuesday that the South Carolina cop who forcibly removed a female student from her chair was justified because the woman "had no respect."
"There's a police officer in that school for a reason," Houck said, noting that the teacher called the police to come because the student refused to get out of her chair. "Because you failed to comply, you are under arrest, you are failing to comply now," Houck said. "So the officer can use whatever force is necessary to affect an arrest."
Houck told Cuomo that while the video "looks really bad," the student "did not get hurt," adding, "apparently the officer did it in a way where she could not get hurt."
"Here's the problem," Houck continued, "this is a failure to comply again. Like in all these cases here, people don't listen to the police when they're giving them a command. You must comply."
"If that girl got out of the car — got out of the seat when she was told, there'd be no problem. But apparently she had no respect for the school, no respect for her teacher, probably has no respect at home or on the street, and that's why she acted the way she did," Houck said.
Pressed by Cuomo about what he would do in the cop's position, Houck said, "you pull her out of the chair. That's exactly what you do."
Watch the video above, via CNN.
[h/t MMfA]
[Image via screengrab]
—
>> Follow Elizabeth Preza on Twitter (@lizacisms)
Have a tip we should know? tips@mediaite.com