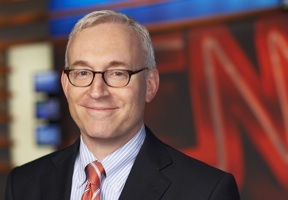 Cable news ratings for the first quarter came out this week, and its been a rather tough day for CNN. Writing for the NY Times, Bill Carter's story includes a headline that screams "CNN Fails to Stop Fall in Ratings." No, it's not good news – or more to the point — it's actually more bad news. Insiders have long whispered about what's going on at CNN, and alas, the continued and consistent poor ratings mean that its finally time to openly question Jon Klein's future in his role as President of CNN.
In today's piece for the NY Times, Carter wrote:
CNN continued what has become a precipitous decline in ratings for its prime-time programs in the first quarter of 2010, with its main hosts losing almost half their viewers in a year.
…
CNN had a slightly worse quarter in the fourth quarter of 2009, but the last three months have included compelling news events, like the earthquake in Haiti and the battle over health care, and CNN, which emphasizes its hard news coverage, was apparently unable to benefit.

The losses at CNN continued a pattern in place for much of the last year, as the network trailed its competitors in every prime-time hour. (CNN still easily beats MSNBC in the daytime hours, but those are less lucrative in advertising money, and both networks are far behind Fox News at all hours.)
Carter is putting it nicely. Some lowlights for CNN's First Quarter include the following:
CNN is down by double digits for every program in P2+ and A25-54
CNN lost nearly half of its prime time demo viewers for the quarter – network was down 42% over 1Q'09
Anderson Cooper is down a whopping 46% in the demo (at 10pm) and down 42% in P2+
Campbell Brown had her worst quarter ever with Total Viewers (down 44% in 25-54 and down 40% in P2+)
Larry King had his worst quarter ever with both Total Viewers and Adults 25-54 (down 43% in 25-54 and down 44% in P2+)
CNN's recent addition, Rick's List, is down 49% in 25-54 and down 42% in P2+
American Morning is down 29% in 25-54 and down 32% in P2+ and is getting beat by Morning Joe for the first time ever for an entire quarter in P2+
The news is not good for CNN, but to be fair, the cable news landscape has changed dramatically in the last few years. Opinion media, or as some would call "Personality Journalism" appear to be the most commercially viable (and most watched) programs on cable news. Fox News ratings dominance is well accepted (and their murderer's row prime time lineup often rates better than MSNBC and CNN combined.) Under Klein's leadership, CNN's has eschewed personality driven, or opinion programs for straight news (though Larry King sometimes fits in that category.) CNN's sister channel HLN is the place for personality, featuring Nancy Grace, Joy Behar and Jane Velez-Mitchell. Not surprisingly, HLN is widely viewed as enjoying a resurgence, while CNN is fading.
"Jon Klein is a strong leader and a talented programmer, and he has my full support."
Jim Walton — President, CNN Worldwide
Which bring us back to Klein. Let's start with the prime time line up. Most television programmers understand a basic trough to crafting a lineup – keep viewers tuned in from show to show, ideally offering consecutive programs that offer some common ligature between them. It's sort of best viewed as a relay race – and the most successful networks handle the hand-offs beautifully. In that context, let's look at CNN's prime time lineup for the last three years. At 7PM Lou Dobbs offered a unique blend of business news and right-of-center politics, followed by Campbell Brown at 8pm – a show who's amorphous mission was "No Bias, No BS" or something. At 9pm we have the legendary Larry King, who clearly appeals to an older demographic, then back at 10pm, the allegedly young and hipper Anderson Cooper till midnight. If anyone can explain the programming logic here, please comment below. Because this slate flows about as well as the Hoover Dam.
Last Fall, Lou Dobbs abruptly left his spot on the CNN dial, which gave Klein a perfect opportunity to show some creativity and forethought at the 7pm spot. He chose CNN Reporter John King, a rather predictable choice, that says as much about CNN's lack of up-and-coming talent at CNN than correspondent John King. King is a world-class reporter, but his straight-ahead style recalls Judy Woodruff, Deborah Norville, Connie Chung, Campbell Brown, Aaron Brown, and sadly, every other failed CNN prime time program
When it comes to serious news reportage, nobody does it better than CNN (evidenced by their quick, thorough and intense coverage of the Haitian earthquake.) And in the brave new world of partisan news, there is a place for a fair arbiter of news; which is a role that CNN has ostensibly tried to fill. But unbiased does not mean uninteresting – as it often appears on CNN.
Earlier this year, Jon Klein seemed to suggest that ratings are besides the point, that advertisers are loathe to associate themselves with the sometimes bitter opinion makers, choosing instead to go with the safe outlet. In fact, while speaking at a NY Media Summit, Klein made that very point. Writing for econsultancy.com, Meghan Keane reported:
Speaking at the 2010 Media Summit in New York, the president of CNN said that television ratings don't paint an accurate picture of his network's strengths. But his reasoning is interesting — it's not because FOX is beating them there, but due to competition from online sources that aren't being tracked by the Nielsen ratings.

FOX consistently beats CNN in the ratings. And Klein has plenty of evidence to prove that those ratings don't present a fair portrayal of popularity. For instance, CNN had 100 million viewers last month. That's 10% more than FOX's 90 million. But FOX's visitors stay longer, view more often during primetime, and do other things that Nielsen takes into account when compiling its rankings.

Klein says "we think of ourselves as being first." But that's not exactly how these things work. Even if CNN sees itself as the most fair and balanced, informed and fast network out there, that doesn't mean that viewers are going to.
To be fair, the larger point of the importance of being first, fast and fair is completely legitimate. But its convenient for Klein to dismiss the importance of television ratings, particularly with regards to CNN's economic viability. One would gather that neither Jim Walton (President, CNN Worldwide) nor Jeff Bewkes (CEO of TimeWarner) would be quick to agree with Klein's assessment. You know who else would disagree? Jon Klein from exactly five years ago to the day, when he told Charlie Rose:
"A couple of years down the line, we ought to be essential viewing. You ought to actively look to see what it is we have on when you come home, because we will have by then well established the idea that we're always giving you some fresh angle or fresh information that you couldn't get in any other way. That's — I'll consider that success. And my bosses will, too."
When reached by Mediaite, CNN provided the following quote from Jim Walton: "Jon Klein is a strong leader and a talented programmer, and he has my full support."
Jon Klein is a gentleman and an intellectual who is widely regarded as a class act, and is beloved personally on the staff at CNN. But the continued and consistent failure of ratings (and unspired programming choices) beg the question: how much longer will Jon Klein be allowed to drive this ship into the ground?
Disclosure – prior to working at Mediaite, I wrote and produced for HLN.
Have a tip we should know? tips@mediaite.com