Colbert Super PAC Airing 'Mitt the Ripper' Ad In South Carolina Narrated By John Lithgow
Colbert Super PAC Airing 'Mitt the Ripper' Ad In South Carolina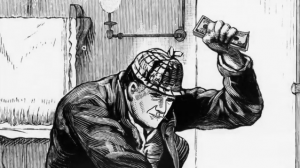 It's been less than four days since Colbert Super PAC changed hands from comedian Stephen Colbert to his colleague Jon Stewart and was renamed the Definitely Not Coordinating With Stephen Colbert Super PAC. Political analysts were wondering how long it would take for the new PAC to start airing ads in South Carolina. Well, wonder no more, because a new ad from the PAC targets Mitt Romney over his "corporations are people" comment.
RELATED: Stephen Colbert Salutes Romney's Position On Corporate Personhood: 'Dr. Martin Luther, Inc.'
The new ad, courtesy of Americans For A Better Tomorrow, Tomorrow, is titled "Attack In B Minor For Strings." It was released online late last night, along with a press release by Stewart, the Super PAC's "President For Life For Now."
"Mitt Romney claims to be pro-corporations," said Jon Stewart, President of The Definitely Not Coordinated With Stephen Colbert Super PAC. "But would you let him date your daughter's corporation? Americans have been clamoring for a comprehensive study of this crucial issue, so we splurged for the full sixty-second commercial. We think South Carolinians will agree – they deserve a leader who shares their state's values, and perhaps even their state's initials."

The new spot begins airing today in a major ad buy that will blanket South Carolina from Charleston all the way to North Charleston.
The ad is narrated by actor John Lithgow, proudly labeling corporations as "America's greatest institution." But as both Mitt Romney and the Citizens United Supreme Court ruling have declared, corporations are legally people and have the same rights. And yet, as the ad claims, when Romney was in charge of Bain Capital, he split up companies and "got rid of what he couldn't use."
RELATED: Stephen Colbert Is Now Offering $500K To Sponsor South Carolina's GOP Primary (With A Few Conditions)
But if corporations are people, and Mitt Romney carved up corporations while at Bain, then by the candidate's own logic, the ad declares, he is a "serial killer." The ad encourages South Carolinians to vote for anyone except "Mitt the Ripper."
Watch the ad below, courtesy of Comedy Central:
Have a tip we should know? tips@mediaite.com
Josh Feldman - Senior Editor