College Football Playoff Ratings Slightly Up Over Last Year But Way Down From 2014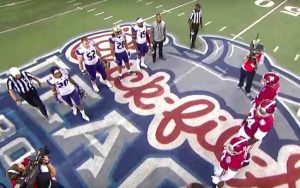 For for the second consecutive season, the College Football Playoff semifinal doubleheader took place on New Years Eve. The ratings numbers are in, and while they show an improvement from last year, they still represent a dramatic drop from two seasons ago.
According to the sports ratings tracking website Sports TV Ratings, Saturday's Peach Bowl between Alabama and Washington notched a 10.9 overnight rating — good for a 12% increase over last year's first semifinal game, Oklahoma vs. Clemson in the Orange Bowl. The second semifinal, which pitted Clemson against Ohio State, posted a 10.0 overnight, up 1% over last year's Alabama-Michigan State Cotton Bowl match-up.
All good, right? Not exactly.
The ratings for those games were dramatically better two seasons ago, when they were played on New Year's Day. That year's first semifinal, Oregon vs. Florida State in the Rose Bowl, posted a staggering 15.5 overnight.
That comparison is slightly unfair, given the annual ratings prowess of the Rose Bowl. A fairer measuring stick is the second semifinal from two seasons ago — the Sugar Bowl between Alabama and Ohio State. That game pulled down a 15.3 rating.
So overall, this year's audience is down roughly a third from the games two seasons ago.
The audience was a bit fragmented due to the fact that semifinal games this year aired on multiple channels and on ESPN's streaming platform, Watch ESPN. In a press release, ESPN touted the aggregate numbers, and said that the two games averaged 19,728,000 viewers — good for a 14% increase from last year.
Still, executives at ESPN are likely relieved that the games won't be played on the holiday again until at least 2021.
[image via screengrab]
–
Follow Joe DePaolo (@joe_depaolo) on Twitter
Have a tip we should know? tips@mediaite.com
Joe DePaolo - Senior Editor