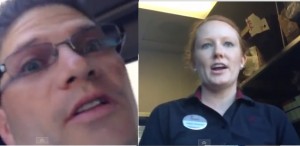 The controversy surrounding poultry purveyor Chick-Fil-A's opposition to marriage equality has managed to bring out the worst in some people. While history will be the final judge of the anti-gay uprising that was "Chick-Fil-A Appreciation Day," those throngs of fowl fanatics were overshadowed, to some degree, by a now-fired viral video jerk named Adam Smith, who filmed himself haranguing a polite drive-thru worker.
The Daily Show's Jon Stewart may be fooled by the First Amendment hooey being offered up by Chick-Fil-A supporters, but unless these crusaders also lined up around the block to pick up copies of "Me So Horny" or Hustler magazine, I'm not buying it. The throngs who turned out to, as Stewart put it, "Eat Mor Cok" yesterday, were standing up for their right to enforce their values on a minority. Future Americans will point at all of that CNN b-roll of Chick-Fil-A lines and shake their heads.
Those same future Americans, however, will also get to see Adam Smith hassle Rachel, the absolutely best drive-thru worker (she's also a shift manager, according to a Chick-Fil-A source) in the history of fast food (really, you'd be hard-pressed to find any food service worker who would be this friendly to a guy ordering a "free water"):
Some PR firm or politician ought to scoop Rachel up immediately, and make her a spokesperson.
The right-wing blogosphere jumped all over Smith, but immediately began overreaching by indicting "the left" for his actions. As a member of the Professional Left, I hereby revoke this guy's Prius in perpetuity for feeling the need to tell her he's "totally heterosexual" and that there's "no gay in me." Yes, we can be jerks, but not homophobic jerks. This guy's motivation was narcissism, not liberalism.
That narcissism, however, backfired on Smith. Despite his deletion of the YouTube video, Smith's employer, Tucson's Vante, Inc., apparently got wind of it, and released a statement yesterday announcing his dismissal:
Vante regrets the unfortunate events that transpired yesterday in Tucson between our former CFO/Treasurer Adam Smith and an employee at Chick-fil-A. Effective immediately, Mr. Smith is no longer an employee of our company.

The actions of Mr. Smith do not reflect our corporate values in any manner. Vante is an equal opportunity company with a diverse workforce, which holds diverse opinions. We respect the right of our employees and all Americans to hold and express their personal opinions, however, we also expect our company officers to behave in a manner commensurate with their position and in a respectful fashion that conveys these values of civility with others.

We hope that the general population does not hold Mr. Smith's actions against Vante and its employees.
The University of Arizona, where Smith was once an adjunct lecturer, also released a statement distancing themselves from him.
Opponents of Chick-Fil-A's stance on marriage equality have planned a "Chick-Fil-A Same Sex Kiss Day" counter-protest for today, which the company has responded to with this statement, from Steve Robinson, Executive Vice President, Marketing, Chick-fil-A, Inc.:
Statement in Response to "Kiss" Day

At Chick-fil-A, we appreciate all of our customers and are glad to serve them at any time. Our goal is simple: to provide great food, genuine hospitality and to have a positive influence on all who come into contact with Chick-fil-A.
This is an opinion piece. The views expressed in this article are those of just the author.