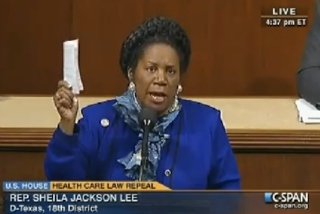 As Gaza remains calm and DC remains on vacation for the foreseeable future, many in the media are finding filling the hours a bit more challenging than usual.
Yes, the border crisis is still very much that, but the heat around that story cooled a bit when the Gaza escalation sent producers, reporters and even anchors/hosts overseas to cover the conflict. And polls are easy fillers, particularly ones with results as startling as this for the president (NBC/WSJ has now has him at 40 approve/54 disapprove). But overall, as any cable news exec will tell you, August—outside of hurricanes…and a major one hasn't the continental U.S. in over 3000 days—is the slowest month at any network.
So when it doubt, ginning up some controversy is the best way to go. Being an election year and the need for funds at a fever pitch—especially this year with Democrats at serious risk of losing the Senate—impeachment has been presented with the same scare tactics we're seeing around Ebola. But like the two Ebola patients who were recently transported to the U.S., the chances of something real spreading—like a move to actually impeach the President via constitutional means—are almost zero.
What's that, you say? Republicans keep bringing it up? Sure, there's that elected official Sarah Palin who started the whole frenzy a few weeks ago. Funny how we're always told not to take the former Alaska governor seriously, until just about everybody in the media contradicts itself and, you know…does.
Then there's Arkansas Governor Mike Huckabee, who also broached the I-word on Tuesday, except the Huck hasn't been running the show in the home of the Razorbacks since 2007 (and is now a Fox News host). Elected officials like congressman Steve King (R-Iowa) over the weekend, or Walter Jones (N.C.), Steve Stockman (Texas) Michele Bachmann (Minnesota) and Louie Gohmert (Texas) also have raised the issue, leaving 229 Republicans in Congress who haven't, or less than one percent.
Overall, according to a Review of the Congressional Record by The Hill, Democrats have said the word impeachment 86 times on the House floor since the start of the 113th Congress.
Republicans? Four whole times.
No matter–it's still all the rage on cable news—and especially on one channel. But don't take my word for it: Here's stats guru (and America's most respected election prognosticator) Nate Silver of fivethirtyeight.com and his analysis through July 30th alone:
For every mention of impeachment on Fox News in July, there have been five on liberal-leaning MSNBC. This data comes from a Lexis-Nexis search of transcripts on each network. It counts each mention of the words "impeach" or "impeachment." The terms were used 32 times in a single episode of MSNBC's "The Ed Show". Fox News has 95 mentions of impeachment, and MSNBC 448. That works out to about 2.7 mentions per hour of original programming on MSNBC, or once every 22 minutes.
If last Sunday's talk shows (that occurred in August) are any indication, the number of I-word mentions across the board likely increased even higher.
Are a handful of Republicans talking impeachment? Yes. But have 251 members actually voted to impeach, as was the case in 2008 and Democrats as it pertained to President George W. Bush? Of course not.
Some GOP members appear to finally have been media trained on actually handling the question around the topic when it comes up, as illustrated by Tom Cotton (Arkansas gubernatorial candidate) when asked about it by Fox's Neil Cavuto on Wednesday:
"Neil, I don't want to engage in speculation about hypothetical actions the president may or may not take," Cotton said.
If Republicans would follow Cotton's lead—or House Speaker John Boehner's in dismissing such talk—millions of dollars could be saved for hard-working (albeit easily-duped) Democratic donors who can allocate the cash more wisely than to a phantom impeachment movement.
With the dog days of August comes preseason football, less traffic inside the Beltway and the specter of an early Labor Day this year (by the way…September 1st? Are you serious?).
Also included is a cheap and easy narrative to drive otherwise slow news days that help fill campaign coffers in the process.
A recent NBC News/WSJ poll says 71 percent of Americans say the country is headed in the wrong direction.
When the conversation centers on impeachment—even the fictional version—you can see where the frustration is coming from.
— —
>> Follow Joe Concha on Twitter @JoeConchaTV
Have a tip we should know? tips@mediaite.com