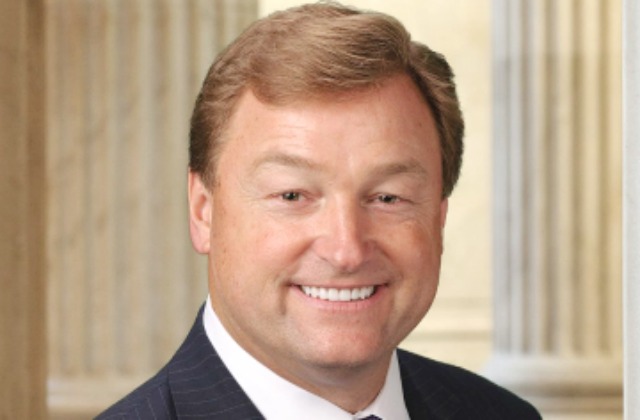 A conservative group backing President Trump and the Senate health care bill started to run ads against Republican Senator Dean Heller for his opposition to the bill, but according to multiple reports they are pulling it.
America First Policies recently went after the Nevada Republican and called him out for not getting behind the legislation:
Why did @SenDeanHeller lie to voters about #RepealAndReplace? He's now with @NancyPelosi. NOT GOOD! #HellerVotesYes

— AmericaFirstPolicies (@AmericaFirstPol) June 24, 2017
We won't hold back. Americans need to know @SenDeanHeller is blocking the #RepealAndReplace of FAILING Obamacare!https://t.co/3pScNqzkLn

— AmericaFirstPolicies (@AmericaFirstPol) June 26, 2017
Earlier today, Politico's Alex Isenstadt reported on the anti-Heller advertising the group was taking out:
America First Policies, a White House-sanctioned political organization, is launching a $1 million TV and radio ad campaign on Tuesday savaging Heller, the most vulnerable Republican facing re-election in 2018, for his planned 'No' vote. It's an offensive designed to send a loud message to those who refuse to align themselves with President Donald Trump's legislative agenda.
Katrina Pierson, a former Trump campaign spokesperson, is part of the group and she has been defending the ads against Heller, even as Republicans in the Senate have criticized the move as counterproductive:
Establishment R's attacked Conservatives w/Obama in office 24/7, now it's "not cool"? #Accountability starts at home! No Obamacare! #MAGA ?? https://t.co/ywdG7Sk8In

— Katrina Pierson (@KatrinaPierson) June 26, 2017
It's not @AmericaFirstPol job to protect R seats. It's to support/promote #AmericaFIRST policies. If you don't we'll let your voters know.?? https://t.co/W4otDhnrCD

— Katrina Pierson (@KatrinaPierson) June 27, 2017
Well, now Isenstadt is reporting––and other reporters are corroborating––that the ads are being pulled.
But on Tuesday evening — just a few hours after the TV and radio ads went up and after Senate Republicans tossed plans to vote on the legislation this week — the group, which is staffed with several of the president's top campaign aides, decided to stop running the ads, two senior Republicans familiar with the decision told POLITICO.

An America First Policies official said the decision followed Heller's decision to appear at the White House with other Republicans on Tuesday, arguing that it was evidence that he was open to negotiating on the bill.
CNN is reporting that the anti-Heller ads were brought up the Republican senators' closed-door meeting with President Trump:
.@mkraju reports GOP senators repeatedly raised concerns about the Heller attack ads in the closed-door WH meeting today.

— Phil Mattingly (@Phil_Mattingly) June 27, 2017
As of this posting, the America First Policies website still has "America First Policies Releases Anticipated Ads Aimed at Senator Dean Heller of Nevada" up and hasn't updated it yet.
[image via U.S. Congress]
— —
Follow Josh Feldman on Twitter: @feldmaniac
Have a tip we should know? tips@mediaite.com
Josh Feldman - Senior Editor