Conservatives Being Really Horrible And Stupid About Patrick Moran Assault On Girlfriend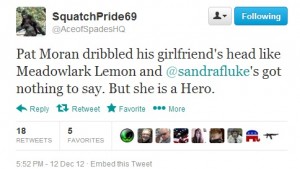 On Wednesday, Patrick Moran, son of Congressman Jim Moran (D-VA) and particularly dim James O'Keefe sting-ee, pleaded guilty to simple assault on girlfriend Kelly Hofmann, a charge that stemmed from a December 1 incident in which Moran allegedly slammed Hoffman's head into a metal trash can cage, fracturing her skull and injuring her nose. It's a horrible story that highlights an important, serious issue, but shortly after the news was reported, Michelle Malkin's Twitter repository, Twitchy.com, had decided that the real villains were Rachel Maddow, Sandra Fluke, the media, Rep. Moran, and, somehow, me, while using Ms. Hoffman's injuries as inspiration for pop-culture riffs.
It's all pretty sick stuff, and I don't want to spend too long on it, but the "outrage" was scattershot, yet seemingly aimed everywhere but at domestic violence itself. Some were critical of Rep. Moran's boilerplate statement, issued through a spokesman, which read "They are both very embarrassed by the situation, which involved drinking, and they are looking to move past it, and ask for their privacy to be respected."
The statement lacked gravity, but is identical to every statement ever issued by a politician regarding any personal situation, particularly one that didn't directly involve him.
There were also several featured tweets that seemed to suggest that Patrick Moran's actions somehow vindicate Republicans' disastrous policies toward women, and specifically, their opposition to the Violence Against Women Act. Next in the Twitchy Rogues' Gallery were Rachel Maddow and Sandra Fluke, because they didn't tweet about it (or anything else) following the news, and demand… who knows? That Patrick Moran resign from that political office that he doesn't hold? That the police double-plus arrest him?
The media are also responsible, don't you know, because they're not chasing down the obvious political favors involved in Moran's sentence, which they described as "probation," but was actually a 90-day suspended sentence, one year's probation, completion of domestic-violence counseling, and 50 hours of community service. That still seems like a very lenient sentence for a guy who fractured his girlfriend's skull, but not when you consider that Ms. Hoffman covered for Moran, and wanted the case dismissed:
A e-mailed statement from Kelly Hofmann, Moran's girlfriend, that was circulated by his father's office after the plea had been entered called the incident one that "has been blown out of proportion" and said she was hurt when one of her high heels gave out and she fell into a trash can.

Another statement released by a spokesman for the congressman (D-Va.) also called the incident an "accident."

Moran's court-appointed attorney, Gretchen Franklin, said that the couple was still together and that prosecutors declined to dismiss the case even though Hofmann wanted them to.
Finally, the folks at Twitchy chose to highlight a series of tweets that featured domestic violence-related riffs on Meadowlark Lemon, Star Wars, and even the headline from one of my columns. Sure, a young woman was beaten, and has made the regrettable decision to stay with the guy, but don't miss a chance to show off the chops!
In their rush to exploit this sad situation for cheap points and even cheaper laughs, the folks at Twitchy have missed a chance to continue a truly productive conversation about violence against women that has seen fits and starts recently, but requires much more attention. If there's one thing I agree with them about, it's that this should be a huge story, because there are disturbing issues hiding in plain sight.
For example, Jim Moran can be forgiven the boilerplate statement that so offended the Twitchy team, but he crossed over to being an enabler of domestic violence when he had his spokesperson repeat the obvious cover that the assault was an accident. Ms. Hoffman is in a dangerous situation, covering for her abuser and staying with him, and Rep. Moran has made himself an accessory to that potentially tragic decision.
The "accident" is an obvious cover story because the incident was witnessed by two police officers. Fox News' Greta Van Susteren, while urging people not to blame Rep. Moran, posted excerpts from the police report:
"MPD Sgt. Paul, S from the Fifth District Vice unit along with ABRA investigator Stewart, Craig observed a white male, later found to be known as D-1 (Moran) grab a white female by the back of her head with his hand and slam her head into the metal trash can cage in front of the nightclub 'The Getaway'. After both parties were separated investigation revealed that the female (CW-1) was D-1′s girlfriend and they had been in an argument inside the nightclub over D-1 talking to another female inside the club. CW-1 stated that she and D-1 have been together for six months," the report continues.

"The argument filtered outside where D-1 then assaulted CW-1. Officer Murphy (4041) and Officer Anderson (Curfew 42) responded to assist. Officer Murphy observed CW-1 to be bleeding heavily from her nose and also observed that i her nose and right eye were extremely swollen. Ambulance 11 responded to the scene for treatment and transportation to Howard Hospital. The medical technician advised Officer Murphy that CW-1′s nose looked to be broken and that her right socket could possibly be fractured which is actually considered a skull fracture.
Often, the police and the courts have no choice but to essentially look away when a victim of domestic assault refuses to press charges or testify, which is a classic ingredient in the cycle of domestic violence, but we don't have to do that, we don't have to look away from Kelly Hoffman and have a political slapfight over who denounced what, and when. We can look out for her, and women like her, by talking about how to end violence against women, not exploit it.
Have a tip we should know? tips@mediaite.com