Correspondence From The Pentagon To Wikileaks Surfaces, Confirming They Have Talked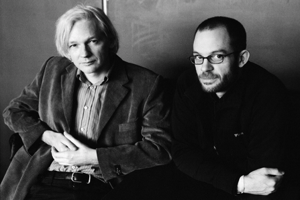 Earlier today, chief Wikileaks spokesman (and suspected founder) Julian Assange told the AP that the Pentagon had communicated to his organization. It took about an hour for the Pentagon to deny any dialogue. Now, after a letter from the Department of Defense to a Wikileaks legal representative has surfaced, the Pentagon is standing by their "no direct contact" claim but backed down on their earlier, more absolute claim. Oh, and they don't want to cooperate.
Wikileaks seemed to have found the story significant enough to overlook their ongoing feud (ok, maybe just Julian Assange's feud) with Mother Jones magazine to tweet a link to their article on the subject, which reports:
In discussions with reporters later Wednesday at the Pentagon, [spokesman Bryan] Whitman clarified the military's position. According to Stars & Stripes DC bureau reporter Kevin Baron: "DOD just released a letter sent on Monday to an indivudual [sic] they 'came across' who was 'purporting' to be an atty for WikiLeaks." Whitman told the assembled reporters that the DOD had scheduled a phone conversation at 10 a.m. on Sunday, "but the atty did not show."
The attorney is Timothy Matusheski, a Mississippi attorney that purports to be representing Wikileaks. Wikileaks also released this document from the Department of Defense to Matusheski, suggesting some sort of dialogue. In light of the documents, the Pentagon maintained that there was still no "direct" contact (which, given Matusheski's shady nature and the fact that there has not really been established an exact link between him and Assange, is understandable). Whitman also took the opportunity to shoot down any optimism Assange may have initially exhibited early today, stating the Pentagon "will not negotiate some 'minimized' or 'sanitized' version of a release by WikiLeaks." Given that Wikileaks is not backing down and obviously eager to work with the Pentagon, it's a question of time whether the remaining 15,000 documents on the Afghan War they have promised to release will be fully unedited or whether the "harm-minimization process" will have an effect.
[Photo of Wikileaks spokesmen via Wired]
Have a tip we should know? [email protected]