This Exists: Back-To-School Advice From Democratic Senate Candidate Alvin Greene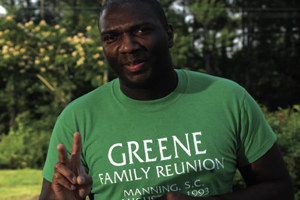 It's mid-August, and all the good little boys and girls are saving up their pennies to buy notebooks and pencils at the local stationary store. Sometimes those who have been through this whole "school" process like to weigh in and give some advice on how to best handle another year of hitting the books. Among those dispensing wisdom this year? South Carolina Democratic Party Senate candidate Alvin Greene.
Yes, Alvin Greene did go to school! Those who have been following the story closely will remember that Greene has repeatedly noted his college education. So the Charleston City Paper decided to ask Greene for some advice on how to handle the upcoming school year. He gave the paper some of his typically succinct responses– "that doesn't matter" seemingly paramount among them. "That doesn't matter" was Greene's response to picking classes depending on the day and the time of day at which classes meet. Studying and working out were also a cornerstone of a good college experience for both getting good grades and an overall positive, freshman 15-less experience, and while he doesn't know how to combat a hangover, he had some very specific advice on financial aid and textbooks:
I encourage people to look at my campaign and to vote for me for the United States Senate here in South Carolina. Alvin Greene. Yes. That's a good thing… Support me and my campaign. I'm Alvin Greene for U.S. Senate, and I can come up with some ways they can just work, they can just maybe work their loans off. Do community projects or something.
Have a tip we should know? tips@mediaite.com