Corrupt Ohio Politico James Traficant's Post-Prison Congressional Bid Derailed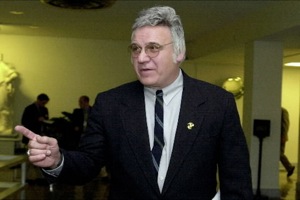 A heinously corrupt Midwestern politician known for his political theatrics and ridiculous hair has seen his latest plan foiled yet again. No, it's not Rod Blagojevich this time– it's his stylistic forefather, James Traficant. The former Ohio Congressman's post-prison bid for another run in Congress is not to be, say authorities, because he wasn't able to collect enough signatures. Truly a sad day for democracy.
The most frustrating part for the in-utero Traficant 2010 campaign must have been that they actually did have enough votes to get on the ballot, but not enough of them were legitimate. Legitimacy seems to be a recurring problem with Traficant, who just finished a seven-year stint in jail for bribery and racketeering.
According to CNN, Traficant submitted 3,138 signatures, but only 2,092 were valid, about 100 less than the necessary amount. Traficant can still appeal the decision, however, by presenting in writing to the election board enough signatures he believes are valid to put him over the top. If they are all approved, his bid might still be alive. If not, however, the only choice left is a write-in bid– which, in Ohio, is possible for candidates who fail to get on the ballot for national offices– and while the AP confirms he is planning to appeal the decision, the campaign has shown no signs of planning for a write-in candidacy against incumbent Democrat Tim Ryan.
UPDATE: Nick Gillespie at Reason put together a compilation of the best of Traficant's time in Congress, to remind us of what we're now going to miss.
Have a tip we should know? tips@mediaite.com