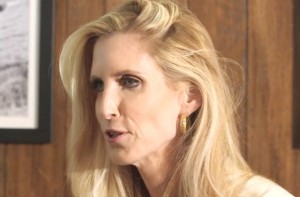 One of Ann Coulter's big sticking points with media coverage of Donald Trump is the media pile-on for his mockery of a disabled reporter, which she says never happened.
Earlier this week, Coulter defended Trump by saying he was just "doing a standard retard." She devotes an entire chapter of her Trump-loving book to the controversy.
And in an interview with The Hill today, she says it's a "deliberate lie" by the media to say he mocked Serge Kovaleski over his disability.
Coulter said she hopes that Trump continues to go after the media because of all the "slander 24 hours a day and just lies."
And we actually get to the true reason Coulter has gotten so worked up about this: it's a devastating attack:
"I think one of the most devastating attacks about Trump was his alleged mocking of the disabled reporter, which I didn't believe at the time for a few reasons," she said.

"He's not a stupid man. Would anyone running for office mock a disabled reporter?"
She said, "If it were true, that goes across party lines. It seems to show a meanness. So to discover that that is not a lie, the media knew it was a lie because in the exact same speech he does the same imitation for a general."
As The Washington Post and others have pointed out, Trump's gestures when mocking Kovaleski were just more flailing in nature than the others.
[image via screengrab]
— —
Follow Josh Feldman on Twitter: @feldmaniac
Have a tip we should know? tips@mediaite.com
Josh Feldman - Senior Editor