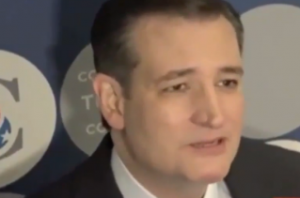 Ever since Donald Trump asked attendees at one of his rallies to raise their right hands and swear to vote for him, he's been facing major blowback from critics who noticed similarities between the photos of supporters with their arms extended and… well, here:
Look familiar? #Trump makes Orlando crowd raise their right hands and swear to vote in primary.
(h/t @wpjenna) pic.twitter.com/pR2CSFbM8N

— The Interim (@85thLegislature) March 5, 2016
The Hitler-Trump comparisons have gotten responses from people who are laughing them off (Joe Scarborough) and people who are taking them very seriously (Abe Foxman, former leader of the Anti-Defamation League). Both reactions can be found here.
Today, presidential candidate Ted Cruz offered his opinion on the matter after being asked if he would ever do such a thing, but he didn't take the "impending Holocaust 2.0" route that so many have trodden in the past few days. He spun the question in a totally new direction. Watch:
Though the reporter asked him about the "optics" of loyalty pledges, Cruz responded that people should not swear allegiance to a candidate or politician "like subjects to a king." Rather, that person should swear allegiance to the people.
After The Right Scoop picked that up, Cruz retweeted them, adding a new layer of commentary:
No political candidate is going to make America great again. I raise my hand, and I take an oath to you, the people! https://t.co/vV4cDxkLxU

— Ted Cruz (@tedcruz) March 8, 2016
He is clearly taking a leaf from the Ben Carson playbook of "We the People" platitudes, but will it work? What do you think?
[image via screengrab]
For more from Lindsey, follow her on Twitter.
Have a tip we should know? tips@mediaite.com