Daily Caller Falsely Reports Ebony Magazine 'Duped' By Alleged Tea Party Boycott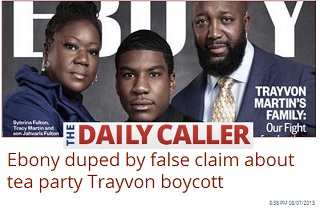 Ebony Magazine's decision to run four Trayvon Martin tribute covers on its current issue caused a backlash among conservatives, to which the magazine wittily responded. At the same time, Twitter erupted with mockery at the notion of a conservative boycott of Ebony, which the website Gawker took pains to point out had not actually been organized. Based on Gawker's post, the conservative Daily Caller now reports that Ebony was "duped" by rumors of a boycott that Ebony never even mentioned, let alone claimed to have materialized. In fact, none of the outlets that Gawker and The Daily Caller claim to refute ever actually said there was such a boycott.
The announcement of the tribute covers caused a conservative backlash, including tweets calling it "disgusting," wondering if "these people" are "stupid," and demanding a debate with a representative from the magazine, and a reprehensible response from the website Twitchy. In response to that backlash, and whatever emails or other correspondence they had received, Ebony tweeted "We have so many Tea Party readers and followers. To lose all zero of them due to our September cover would be devastating."
Not only did they not mention any talk of a boycott, but the outlet that Gawker and The Daily Caller cited also reported the tweet as a response to Twitchy, as did Mediaite. Here's how US News' Elizabeth Flock reported on Ebony's tweet:
Ebony lashed out at tea partiers hours after conservative aggregator Twitchy denigrated the cover, writing that it was "much easier to slap on a hoodie and pretend to fight for social justice" than to "recognize a black American is more likely to be murdered by another black American than some 'White Hispanic.'"
And here's how Mediaite's Andrew Kirell reported on what was plainly a reaction to negative comments from conservatives:
With some conservative outlets criticizing the magazine for its decision, the magazine has hit back with a "see if I care" response, via its official Twitter account
Later in the US News piece, as Gawker and The DC note, there was also a mention of a boycott threat in the comments of a Breitbart.com article:
At conservative news site Breitbart, one commenter urged those who didn't like the covers to "boycott the Heat and the magazine!" Actress and singer Anika Noni Rose, known for her role in the musical "Dreamgirls," tweeted a response: "Dear tea-party, you can't boycott something you've never utilized."
Here's how The Daily Caller reported on Flock's story:
A single commenter on Breitbart.com reportedly called for a boycott of the magazine, according to disgraced U.S. News and World Report journalist Elizabeth Flock, which kicked off a liberal meme that conservatives were staging some kind of racist boycott of the magazine.
"According to?" As if the existence of that comment is in dispute? As a matter of fact, there were several such comments on that story alone:
I's always about "me,me me" with blacks. They have a toxic level of self esteem.
I saw one wearing a t-shirt that said
Talented..but lazy.
Sorry, that's not it. Here you go:
The fact that there's even a magazine called "Ebony" is insane. Based on the illiteracy rate of blacks, I'd say their readership is probably miniscule.
Dammit, this has got to be it:
So Mr. Wade continues to show that most Blacks are mental midgets who blatantly ignore the ugly black on black crime and murders to babble over a black drug taking streetfighting woman humping17 year old thug as if he was a saint.

Enjoy the Plantation life Dwyane.
Where do liberals get there silly memes from? In all, there are 9 comments on that thread recommending a boycott of Ebony, the Miami Heat, or both. That's on a single post, on a single website. Flock's reporting was not only 100% accurate, it was understated.
That absurd premise cause many on Twitter to react uproariously, and while you can argue that they overreacted, it is a hilarious premise. But Ebony never mentioned even the threat of a boycott, and US News never said there was anything more than a single comment threatening a boycott. Despite these facts, The Daily Caller could not suppress the urge to say that Ebony had been "duped."
Have a tip we should know? tips@mediaite.com