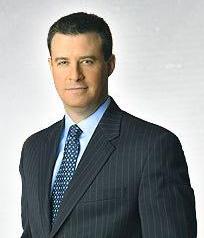 MSNBC anchor David Shuster broke his three-week long Twitter silence last night with a strange series of explanatory tweets about his absence – that were all deleted a few hours later.
What does appear to be clear, however, is Shuster says MSNBC management is stopping him from tweeting.
Shuster's tweets were posted by text last night, and honestly looked like direct messages – to someone – gone awry. In other words, they were never meant to be published to his 24,000+ followers. Maybe. Either way, Shuster wrote, "Thankyou. I appreciate it. I'm hoping mgmt will revisit the twitter issue soon. Thx again 4 your support."
That was followed with "Problems with direct text function" and later "Yes". Yeah – this was probably a new media mistake. But in light of this new information, we asked MSNBC to explain what Shuster was referring to, and, again, got a "no comment" from an MSNBC spokesperson.
Here's what it looked like last night: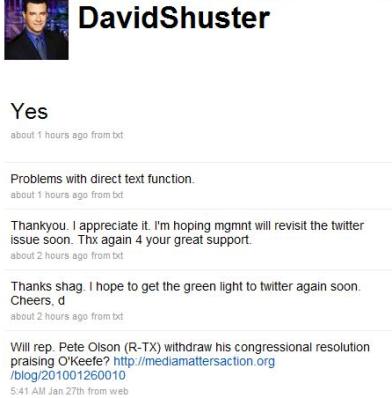 So what do these deleted tweets reveal? Despite the fact that Shuster has remained on-air, anchoring the 10amET and 3pmET on MSNBC, since his on-air fight with Andrew Breitbart and Twitter attack on James O'Keefe, Shuster is claiming management has cracked down on his Twitter use. And it's not for any set amount (Shuster was once suspended for two weeks for a crack at Chelsea Clinton) – Shuster says he hopes "to get the green light to Twitter again soon."
That means he has no idea when, or even if, MSNBC will allow him to get back on the social media service. Or, that's what he's willing to say publicly (or, accidentally publicly). And as MSNBC continues their silence on the truth, we are forced to continue to speculate.
—–
» Follow Steve Krakauer on Twitter
Have a tip we should know? tips@mediaite.com