'Noble' Sarah Palin Explains To O'Reilly Why She Gave Limbaugh A 'Retard' Pass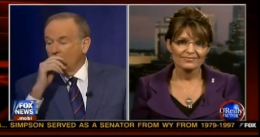 Fox News analyst Sarah Palin continued her tap-dance-like rationalization about who can and cannot use the word 'retard' last night on The O'Reilly Factor. "I want to give you a chance to clarify something I've been getting a lot of mail on," said Bill O'Reilly. Alas, I'm not sure clarification is what he ended up getting but here's part of what Palin had to say (video below).
First Rahm Emanuel who represents the most powerful man, the leader of our free world, called people, a group of people who he disagrees with F-ing retards. Quite inappropriate and on my Facebook I said there, too. I don't think he should be part of our president's inner circle making decisions that affect every single one of us…I thought that that was very insensitive, and not just for that reason, his terminology, his coarse language, but I think he's given our president some very bad advice in a whole realm of different areas.
So basically, she doesn't like Emanuel (or Obama, or the Dems), and the three month old "retard" quote just happened to be a great hook to express that! As for Rush Limbaugh's use of the word, it's ye old satire argument again. Bill O'Reilly is slightly more skeptical of this than Chris Wallace was a few weeks ago…but only very slightly.
"But just to be clear, you didn't come down on Mr. Limbaugh, because you felt that, what, he didn't have any ill intent in what he said? Why didn't you come down on him a little harder."
He was using satire! And with that O'Reilly just sort of lets it drop. At some point someone needs to ask Sarah Palin to define "satire."
Palin also defends charges of hypocrisy by noting that she called Fox program "Family Guy" out for their depiction of children with special needs (video of that below, also). O'Reilly eventually tells Palin he thinks she's "noble." I think she may be the savviest media person on the planet. Videos below.
Have a tip we should know? tips@mediaite.com