'Deja Vu': Political Twitter Couldn't Help But Compare Pats' Miracle Comeback to Election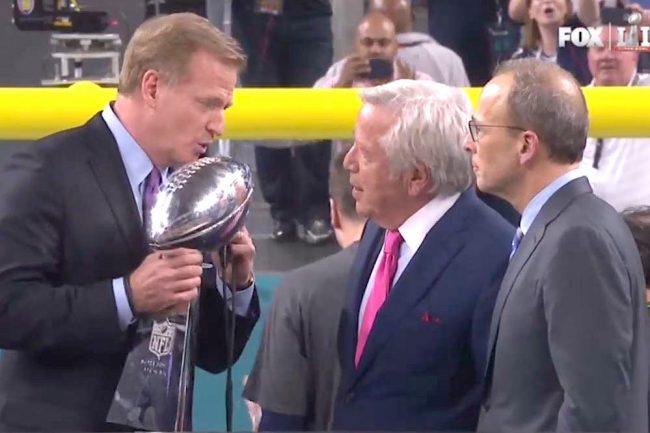 The parallel was inescapable. It truly was, in a manner of speaking, deja vu all over again.
Not even three months removed from Donald Trump's stunning election night victory, in which many forecasters put his chances of winning in single digits, Super Bowl LI featured a comeback that seemed to be even more statistically remarkable. The New England Patriots, down 28-3 late in the third quarter, roared back to stun the Atlanta Falcons 34-28 and win their franchise's fifth Super Bowl title.
Just as on election night, the win probability models failed to predict the outcome.
Atlanta has a 99.3% chance of winning, per ESPN. That's where we had Trump's chances in Pennsylvania at 1:10AM on Election Night

— Nate Cohn (@Nate_Cohn) February 6, 2017
The Falcons' win probability, per ESPN's statistical model, actually got as high as 99.6 percent at one point. But quickly, the comeback was on. And so too were the election night flashbacks:
Wait why haven't they called Florida yet

— Nate Silver (@NateSilver538) February 6, 2017
I mean the only real similarity between the election and tonight is that no one knows what the word "probability" means.

— Jessica Huseman (@JessicaHuseman) February 6, 2017
Right now we are at the Stage of the #SuperBowl where Florida, North Carolina, and Ohio has been called and the unthinkable may happen.

— Christian N. (@CRENpolitics) February 6, 2017
Jill Stein is challenging the ruling on the field

— Nate Cohn (@Nate_Cohn) February 6, 2017
This is basically Election Day x2?

— Colin Jost (@ColinJost) February 6, 2017
its election night all over again

— Tracy Clayton (@brokeymcpoverty) February 6, 2017
This is how I felt on election night. #SuperBowl

— Questlove Gomez (@questlove) February 6, 2017
This game suddenly feels like a 538 poll on election night.

— Clint Smith (@ClintSmithIII) February 6, 2017
Did they use FPI or 538?? https://t.co/bSnCqZ0lg2

— Danny Kanell (@dannykanell) February 6, 2017
WHAT ARE THE 538 ODDS RIGHT NOW

— Sonny Bunch (@SonnyBunch) February 6, 2017
This is looking like Hillary all over again.

— Bill Maher (@billmaher) February 6, 2017
Falcons, I cannot handle deja vu right now…

— Joss Whedon (@joss) February 6, 2017
Complete with James Comey references:
This is the part of the game where Comey announced he's reopening his investigation of the Falcons. #SuperBowl

— Travon Free (@Travon) February 6, 2017
And mentions of Russian interference:
I think Russia hacked the Falcons #SuperBowl

— Jordan (@JordanChariton) February 6, 2017
BREAKING: Trump announces end of Russia sanctions in exchange for Putin returning Bob Kraft's Super Bowl ring.

— ian bremmer (@ianbremmer) February 5, 2017
[image via screengrab]
–
Follow Joe DePaolo (@joe_depaolo) on Twitter
Have a tip we should know? [email protected]
Joe DePaolo - Senior Editor