Democrats' Outraged As Former Bush Communications Director Gloats Over Tax 'Trap'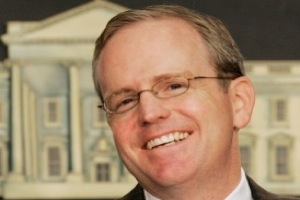 As Republicans in Congress work to earn a legislative victory in keeping the Bush-era tax cuts for the wealthy as well as the middle class, Democrats are up in arms over comments from former Bush Communications Director Dan Bartlett gloating over the tax legislation, calling it a "trap" and admitting that watching Democrats fall into it "does feel pretty good, to tell you the truth."
Bartlett gave the confession to the Daily Beast's Howard Kurtz, who explored the trap in-depth this week, both the elements of getting the legislation passed and the spin both sides would have to give the public to attempt to come out of the negotiating looking good. This goal was exponentially easier for Republicans than Democrats, save for Bartlett's frank admission:
"We knew that, politically, once you get it into law, it becomes almost impossible to remove it," says Dan Bartlett, Bush's former communications director. "That's not a bad legacy. The fact that we were able to lay the trap does feel pretty good, to tell you the truth."
Other Bush-era figures were not so sincere in their schadenfreude. Former Chief of Staff Andy Card told Kurtz that, while he "wish[ed] I could tell you I was that smart," most of the negotiating for the tax cuts had more to do with attempting to make the law permanent, not set to explode in the hands of the Democrats, long after President Bush was out of office. That kind of plan, he explained, required a foresight not present in his administration.
Needless to say, Bartlett's version of the story is the one gaining traction, since there was already a sense, Kurtz writes, among Democrats that they were being set up. At the time, Congressional leaders made comments about the cuts "crashing down on all of us," the "roof fall[ing] in" long after President Bush was gone. Yet the cuts passed anyway, and now Democrats from Alan Colmes to the Think Progress crew are up in arms yet again. This sets up another round of challenges to court the public eye into seeing the convenient version of the story for either side. For this goal, no one could perceive Bartlett's comments as remotely positive, given that they are the perfect red meat for any moderate or liberal looking for villains setting "traps" instead of working to improve the country.
With the tax cuts for the middle class currently at a standstill in Congress, nothing short of a media war appears on the horizon for the rest of this lame duck Congressional session, with Kurtz's report and Bartlett's comments ahead of the curve. All that's left is time to find whether this legislative story takes the cable news world by storm– and wrests the spotlight away from Wikileaks and the Palins– as it continues to threaten to do.
Have a tip we should know? tips@mediaite.com