Despite All The Jabs, Arby's Thanks Jon Stewart With Two Tribute Commericials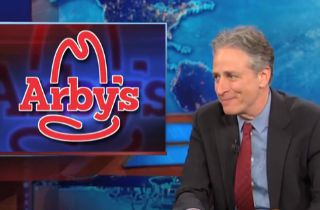 For those who watched The Daily Show on a regular basis, it's no shock that Jon Stewart does not care for Arby's, having made jokes about them for years. However, the chain told The Wall Street Journal that there are no hard feelings towards Stewart.
In spite of all the quips and barbs thrown, Arby's was reported to be among the corporations buying coveted air-time for the penultimate episode which will air tonight. These slots will not be filled by ordinary commercials however, but videos made in salute of the publicity Stewart has sent their way over the years.
While Arby's presence on The Daily Show was overwhelmingly negative, chain officials have said that business has been up recently because Stewart made them part of the national conversation. "Collectively, what is going on has resulted in uplift of business performance," said chief executive Paul Brown.
In their first commercial, Arby's made a smash cut of just some of the many moments when Stewart brought them up:
The second video presents a corn beef sandwich with mustard, with an emotional narrator saying that a sandwich in honor of Stewart's departure was one they never hoped to make:
[h/t Hollywood Reporter]
[image via Screengrab]
Have a tip we should know? tips@mediaite.com