Donald Trump Isn't Backing Paul Ryan or McCain for Reelection: 'Not Quite There Yet'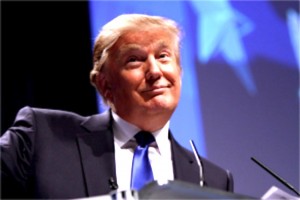 Paul Ryan and John McCain both issued statements criticizing (McCain moreso than Ryan) Trump's attacks on Khizr Khan, but they didn't un-endorse Trump or get too stern. And for their trouble, Trump is saying today he doesn't plan to endorse either of them for reelection.
Trump told The Washington Post that he's "not quite there yet" with Ryan, which is remarkably similar to the language Ryan used about Trump three months ago before he endorsed The Donald.
Trump declared, "I like Paul, but these are horrible times for our country. We need very strong leadership. We need very, very strong leadership. And I'm just not quite there yet. I'm not quite there yet."
Last night Trump praised Ryan's primary opponent on Twitter. Ryan's primary is a week from today.
The Republican presidential candidate then not only went after McCain hard, but he also roped in another Republican senator who's refused to enthusiastically support him.
After crashing McCain for not doing enough to take care of America's veterans, he said this about Kelly Ayotte:
"I'm beating her in the polls by a lot. You tell me. Are these people that should be representing us, okay? You tell me… I don't know Kelly Ayotte. I know she's given me no support — zero support — and yet I'm leading her in the polls. I'm doing very well in New Hampshire. We need loyal people in this country. We need fighters in this country. We don't need weak people. We have enough of them. We need fighters in this country. But Kelly Ayotte has given me zero support, and I'm doing great in New Hampshire."
Party unity!
[image via Gage Skidmore]
— —
Follow Josh Feldman on Twitter: @feldmaniac
Have a tip we should know? tips@mediaite.com
Josh Feldman - Senior Editor