Donald Trump Slams 'Sell Out' Bernie Sanders Ahead of Expected Clinton Endorsement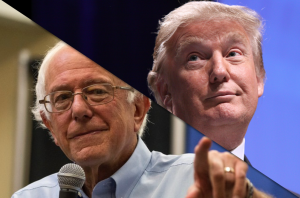 After going back and forth on the campaign trail for several months in an effort to court Bernie Sanders' passionate followers, the GOP presumptive nominee has weighed in defiantly this Tuesday ahead of Sanders' expected endorsement of Hillary Clinton.
Donald Trump has found himself in the unique position of potentially earning the trust — and perhaps the votes — of a percentage of Berners who have grown incredibly disenfranchised with the politics-as-usual Clintonian machine. In April, a poll revealed that as many as 25% of Sanders supporters would mount a #NeverClinton movement so to speak, and while the idealogical divides between Sanders and Trump may be as unfathomable as they are yuge, Trump has still maintained that he can steal some leftist support.
Just last month, Trump said on the campaign trail, "To all of those Bernie Sanders voters who have been left out in the cold by a rigged system of superdelegates, we welcome you with open arms."
Hoping that the Sanders crowd has selective amnesia enough to forget that whole ban-Muslims thing (or literally anything else Trump has said since June 15th of last year), the real estate mogul-turned-Republican also hit Clinton on trade as a means of offering an olive branch of sorts to the Sanders crowd: "And by the way, the terrible trade deals that Bernie is so vehemently against — and he's right on that — will be taken care of far better than anyone ever thought possible."
Today however, the Trump Train whistle is tooting a different pitch.
Bernie Sanders, who has lost most of his leverage, has totally sold out to Crooked Hillary Clinton. He will endorse her today – fans angry!

— Donald J. Trump (@realDonaldTrump) July 12, 2016
I am somewhat surprised that Bernie Sanders was not true to himself and his supporters. They are not happy that he is selling out!

— Donald J. Trump (@realDonaldTrump) July 12, 2016
Just hours ahead of the joint event in which the self-described Democratic Socialist from Vermont is finally, FINALLY expected to endorse the party's presumptive nominee, Trump sounded off on "sell out" Sanders. Of course, if Trump were to have his way, Sanders would mount a true third-party run using his populist and unprecedented primary support and significantly cut into Clinton's electorate. However, after a few key platform concessions of draft language that includes a "general commitment" to a $15-per-hour minimum wage and rhetoric surrounding universal healthcare, Sanders is (more or less) ready to, at long least, stand #WithHer.
—
J.D. Durkin (@jiveDurkey) is an editorial producer and columnist at Mediaite.
[images via Wikipedia Commons]
Have a tip we should know? tips@mediaite.com