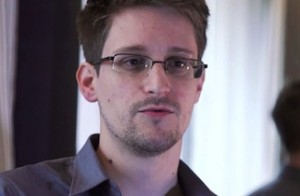 Former government contractor Edward Snowden, the man who fled to Russia in the hopes of seeking asylum from the U.S. Department of Justice after he leaked classified information about spying programs, is now on Twitter.
That's right. The man whose interview about dick picks with comedian John Oliver is better remembered than his serious sit-down with ex-NBC Nightly News host Brian Williams has joined one of social media's most troll-happy venues.
Snowden announced the new account to the world on Tuesday with his first Verizon Wireless-esque tweet:
Can you hear me now?

— Edward Snowden (@Snowden) September 29, 2015
So how did this all come about? As The Intercept points out, we have celebrity astrophysicist Neil deGrasse Tyson to thank for Snowden's new Twitter account. The two recently participated in a long, wide-ranging interview for Tyson's Star Talk Radio program, which released its second part on Friday. That's when the topic of social media came up.
"You kind of need a Twitter handle. So like @Snowden, maybe? Is this something you might do?"  Tyson asked.

"That sounds good, I think we've got to make it it happen," Snowden replied.

"You and I will be Twitter buddies," Snowden told Tyson. "Your followers will be: the Internet, me, and the NSA."
Sure enough, Tyson welcome @Snowden with his own Twitter account on Tuesday morning:
Feeling a Geek vibe. Edward @Snowden, the man behind the global mass surveillance revelations. Welcome to @twitter. — Neil deGrasse Tyson (@neiltyson) September 29, 2015
Snowden thanked Tyson with a quip about Mars accepting his visa now that the possibility of flowing water could mean future endeavors to travel to the red planet. Tyson agreed:
Ed @Snowden, If you visit Mars, I'd bet any life forms there will greet you with a sip of that water — and a tourist visa.

— Neil deGrasse Tyson (@neiltyson) September 29, 2015
As of this writing, Snowden's account has already amassed over 100,000 followers. Yet the account itself is only following one other — the official account for the National Security Agency and Central Security Service. In other words, the very organization Snowden leaked classified documents from.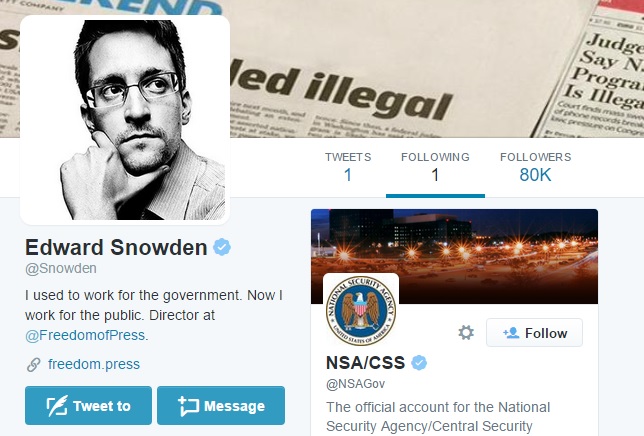 @NSAGov isn't following @Snowden back, at least as far as can be publicly seen.
[h/t The Intercept]
[Image via screengrab]
— —
>> Follow Andrew Husband (@AndrewHusband) on Twitter
Have a tip we should know? tips@mediaite.com