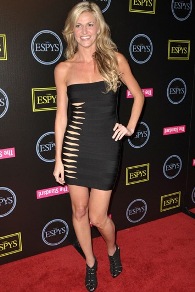 Ever since the story broke that ESPN's hugely popular sideline reporter Erin Andrews was illegally filmed naked in her hotel room, her lawyers and ABC's lawyers and publicists have been out in full force.
And with the way they're sounding recently, all media covering this story have to be concerned about a pending lawsuit from the Worldwide Leader in Sports.
Andrews' lawyer Marshall Grossman tells the AP that "Andrews plans to seek criminal charges and file civil lawsuits against the person who shot the video and anyone who publishes the material."
Well here's two places that "published" the material, in a way – CBS' The Early Show and FNC's Fox & Friends. Yesterday morning, CBS aired a few seconds of one clip and FNC aired several stills of the video, reports Media Matters. (Deadspin has the CBS embedded clip.)
The AP asked Grossman specifically about TV shows (and newspapers, like the New York Post which splashed it on the front page), and her lawyer reiterated the original point.
Several TV networks and newspapers aired brief clips or printed screen grabs of it Tuesday. Grossman responded to an e-mail question about whether he plans to go after those outlets by reiterating his statement that Andrews plans to seek civil charges against "anyone who has published the material."
The story is growing too, gaining attention far beyond the blogosphere it started in on Friday. It could turn into a litigation nightmare – and a major moment for the press, as they defend their right to use the illegal material to make a "news" point.
One place you won't find the story – on ESPN. ESPN spokesperson Josh Krulewitz says the network won't be touching the story "particularly since it has no bearing on her role as an on-air reporter."
But others have, and more will. And their lawyers may be busy.
• Here's Will Leitch's interesting take on the story.
—–
• Follow Steve Krakauer on Twitter
Have a tip we should know? tips@mediaite.com