'Fabricated Lies': Trump Tweets That 'Fake News Writers' Are Making Up Sources From the White House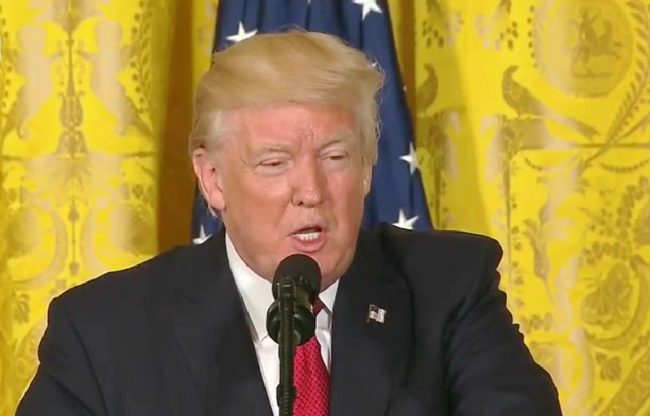 Following his first foreign trip as POTUS, President Donald Trump marked his first morning back in the White House by grabbing his phone and launching into a tweetstorm. While he touched on a handful of topics such as the recent Montana special election and his trip, his most attention-grabbing tweets revolved around his thoughts about the media.
With his administration continuing to be rocked by bombshell report after bombshell report surrounding the Russia probe, Trump decided to express his belief that many of these stories are works of fiction:
It is my opinion that many of the leaks coming out of the White House are fabricated lies made up by the #FakeNews media.

— Donald J. Trump (@realDonaldTrump) May 28, 2017
Whenever you see the words 'sources say' in the fake news media, and they don't mention names….

— Donald J. Trump (@realDonaldTrump) May 28, 2017
….it is very possible that those sources don't exist but are made up by fake news writers. #FakeNews is the enemy!

— Donald J. Trump (@realDonaldTrump) May 28, 2017
These tweets follow last week's blockbuster stories revolving around Trump's senior advisor — and son-in-law — Jared Kushner and his contacts with Russian officials. It was reported that during the transition, Kushner attempted to set up a secret communications channel between the Trump team and the Kremlin.
Recently, the Wall Street Journal reported that the president's tweets may start being vetted by lawyers before being sent out. Not sure that was the case here.
[image via screengrab]
—
Follow Justin Baragona on Twitter: @justinbaragona
Have a tip we should know? tips@mediaite.com