Facebook Draws Outrage After Censoring Iconic 'Napalm Girl' Vietnam War Picture (UPDATED)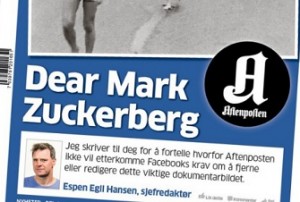 Facebook earned the ire of one of Norway's biggest newspapers this week after they deleted a post because it contained a famously provocative picture from the Vietnam War.
The incident began when Aftenposten writer Tom Egeland posted a piece that featured The Terror of War, a Pulitzer prize-winning photograph taken by Nick Ut in 1973. The image shows 9-year-old Kim Phúc, who has come to be known as "napalm girl," and it is commonly thought of as one of the most significant photographs ever for its depiction of the horror of warfare.
Egeland's post was taken down and his account was suspended because Phúc's photo shows her without any clothes on, and the picture was found in violation of Facebook's policy on nudity. Aftenposten used the picture again when they reported on the suspension, which Facebook also deleted, sending the paper a note demanding they take down or pixelate the photo.
"While we recognise that this photo is iconic, it's difficult to create a distinction between allowing a photograph of a nude child in one instance and not others," said Facebook in their statement. "Any photographs of people displaying fully nude genitalia or buttocks, or fully nude female breast, will be removed."
The censorship prompted Aftenposten editor-in-chief Espen Egil Hansen to write an open letter to Facebook CEO Mark Zuckerberg, accusing him of abusing his power.
"I am worried that the world's most important medium is limiting freedom instead of trying to extend it and that this occasionally happens in an authoritarian way," Hansen wrote. "If you will not distinguish between child pornography and documentary photographs from a war, this will simply promote stupidity and fail to bring human beings closer to each other."
UPDATE – 2:55 p.m. ET: Facebook put out a new statement saying that they would adjust their system to allow the photo on the social network.
"After hearing from our community, we looked again at how our Community Standards were applied in this case. An image of a naked child would normally be presumed to violate our Community Standards, and in some countries might even qualify as child pornography.

Because of its status as an iconic image of historical importance, the value of permitting sharing outweighs the value of protecting the community by removal, so we have decided to reinstate the image on Facebook where we are aware it has been removed."
[Image via screengrab]
— —
>> Follow Ken Meyer (@KenMeyer91) on Twitter
Have a tip we should know? tips@mediaite.com