'Facts Do Matter' — CNN's Don Lemon Chides Trump Supporter Trying to Defend Birtherism Lies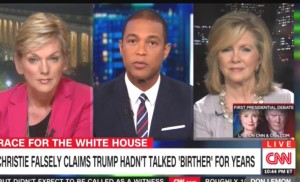 After Trump supporter Rep. Marsha Blackburn (R-TN) attempted multiple deflections in defending Donald Trump's lies about his role in amplifying birther conspiracy theories, CNN's Don Lemon made one thing clear: "Facts do matter."
The candidate, and his surrogates, have repeatedly lied about the birther issue, falsely blaming Hillary Clinton's 2008 campaign for originating it, and falsely claiming that Trump let the issue rest in 2011, after the president released his long form birth certificate.
In fact, he continued to cast suspicion on the president's birthplace as recently as last year. Nonetheless, Trump ally and New Jersey governor Chris Christie falsely claimed that Trump hadn't brought up the birther issue for years.
Former Michigan governor and Clinton supporter Jennifer Granholm told Blackburn on Monday night, "Please tell me you're not going to continue to push this lie that Donald Trump dropped this after the president released his birth certificate."
"Why are so many people on Trump's side repeating these total fabrications, Congresswoman?" Lemon asked.
Blackburn said, "Well, I think you can look at the fact that the issue is done," before pivoting to discuss Clinton scandals as far back as Whitewater. She would not directly answer the question of whether or not Trump dropped the birther issue in 2011.
When she failed to recall a single example of Clinton or her campaign pushing the birther conspiracy theory, she told Lemon that she wasn't actually aware she was going to be discussing the birther issue on CNN that night.
You can watch the heated exchange above, via CNN. 
—
Sam Reisman (@thericeman) is a staff editor at Mediaite.
Have a tip we should know? tips@mediaite.com