'Fire Boehner' GOP'ers Beclown Themselves As Representatives Fail To Agree On Single Protest Candidate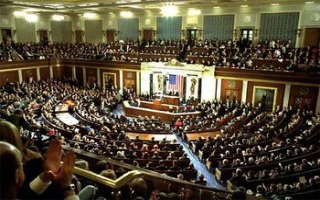 With the swearing in of the 113th Congress on Thursday came the biennial vote for House leadership. This year, several conservative Republicans upset with Speaker John Boehner (R-OH) and his leadership of the party, opted to mount a coup against his leadership. But their efforts were scattered and no single protest candidate received more than three votes. What this protest has established is that the conservative Republicans in the House opposed to Boehner are no force at all. Before today, one could be forgiven for thinking that the conservatives in the House were a group which must be mollified. After today, Republicans in the House have license to ignore and sideline this demonstrably powerless group of contrarians.

Conservatives in the House have voted for anyone who is basically not Boehner – but few voted for the same protest candidate. Individuals who received votes for Speaker include Reps. Louie Gohmert (R-TX), Justin Amash (R-MI), Raul Labrador (R-ID), Eric Cantor, U.S Comptroller General David Walker and even former Rep. Allen West (R-FL).
A number of House Republicans, unsatisfied with any possible protest candidate or simply satisfied in sending a message of noncompliance, abstained from the vote.
This is not an effective protest movement. To even call it a movement suggests that there is unified locomotion in a single direction – to that extent, the defecting House Republicans cannot be called a movement. The most conservative members of the House Republican conference are, at best, rudderless and frustrated.
It is not as if there are no models available to reference how to mount an effective protest vote against Congressional leadership – even recent examples. In 2011, former Rep. Heath Shuler (D-NC) showed how to effectively mount a challenge when he led his fellow Blue Dog Democrats to vote against Rep. Nancy Pelosi (D-CA) as Minority Leader after her party suffered a serious setback in the 2010 midterm elections.
Shuler had mounted a PR campaign for weeks ahead of the leadership vote and had been drumming up support for his candidacy practically since the midterm election votes were cast. He received 19 Democratic votes – the most defections that any candidate has received in a challenge to a sitting leader since 1997 when former Rep. Newt Gingrich (R-GA) faced a coup attempt in the House.
If today's embarrassing showing by the most conservative House Republicans has sent any signal to Speaker Boehner, it is that the faction of his party which opposes his leadership is fractured and leaderless. They have broadcast quite clearly that they are unable to even agree on an alternative to Boehner and, as such, do not represent an especially worrisome threat to the Speaker's leadership.
What they can do is continue to be thorn in the House leadership's side. If that is all they have set out to accomplish with the trust their voters have placed in them, such is their right. The times, however, call for a more serious group of conservative Republicans in the House. Today has shown that this group of legislators is simply not serious.
> >Follow Noah Rothman (@Noah_C_Rothman) on Twitter
Have a tip we should know? [email protected]