As the Gen. Stanley McChrystal story continues to evolve one of the questions will inevitably be…what happens next?
Will the lengthy Rolling Stone profile signal his downfall, or will he survive to see another day. Let's take a look five recent career-threatening profiles or interviews, and whether the subjects were able to keep their job?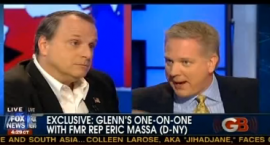 1. Eric Massa vs. Glenn Beck – Career-ending? Yes.
Technically Massa had already quit Congress by the time he sat down with Glenn Beck for a live interview on March 9, but if he was hoping for any career in politics after the tickle-scandal to end all tickle-scandals, he lost it after his bizarre and amazing interview.
There's a reason this is the only live TV interview on this list – these types of train-wreckingly bad interviews just doesn't happen. You were able to watch a career implode with each awkward passing moment until Beck finally apologized to his audience for "wasting your time."
>>> NEXT PAGE: The problem with Albany.
Have a tip we should know? tips@mediaite.com