FLASHBACK: Here's How Trump Responded When Asked if He'd Run for President 27 Years Ago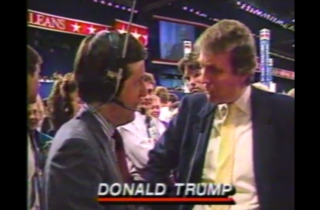 For many, the media obsession with a Donald Trump presidential run seems like something that came out of his prominence as an Obama critic, circa 2011. But NBC News footage from 1988 demonstrates that even back in the coked-out '80s, everyone was still obsessed with the possibility of a President The Donald.
The conservative Media Research Center unearthed a clip from August 17, 1988, in which then-NBC reporter Chris Wallace (now host of Fox News Sunday) pressed Trump about his political ambitions during an interview at that year's Republican National Convention.
Surprise! When asked about whether he'd ever consider a presidential run, Trump boasted that he would "have a very good chance" at winning because "When I do something, I like to win." Actually, we take back the sarcastic surprise — this is slightly different from today's Trump, who would never have made half-assed assertions like "very good chance."
When Wallace asked Trump how he feels when people suggest that he is a "conspicuous example" of the enormous wealth created for some by President Ronald Reagan's economic policy, the mogul shot back: "I employ thousands and thousands of people that wouldn't have jobs if it weren't for things that I've built. I mean, I employ, probably, 25 or 30 thousand people, and that — these are things that I've done over the last four- or five-year period, Chris, and I think that a lot of people are very thankful for it."
Perhaps most interesting of all, however, was his unwavering praise for then-GOP candidate George H.W. Bush: "I think you're going to have, probably, George Bush as your next president. He's an excellent guy, an excellent man. He's a friend of mine, and I'm here [at the RNC] for that reason."
(P.S. – Weren't the '80s a great time for technological development? Check out the gargantuan headset Wallace wore while interviewing Trump remotely, away from a studio. We need to bring those back.)
Watch the full clip below, as found by MRC:
— —
Have a tip we should know? tips@mediaite.com