Florida Teacher Resigns After Realizing Her Child Will Attend Florida Schools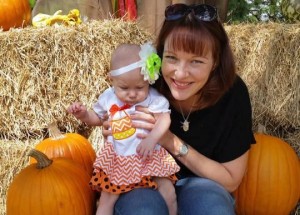 A Florida teacher resigned from her position in the state's public school system upon realizing her infant daughter would one day become a student in the same school district. Not because she didn't want to teach her own daughter, per se, but because of the "misguided reforms" damaging public education's ability to educate.
Wendy Bradshaw subsequently composed a detailed letter of resignation for the School Board of Polk County, Fla. and posted it to her Facebook profile. Since then, the letter has gone viral, attracting the attention of fellow public educators, politicians and The TODAY Show.
"I have become more and more disturbed by the misguided reforms taking place which are robbing my students of a developmentally appropriate education," she wrote. "The new reforms not only disregard [the relevant] research, they are actively forcing teachers to engage in practices which are not only ineffective but actively harmful to child development and the learning process."
These concerns were amplified on June 8, when Bradshaw's daughter was born.
"I remember cradling her in the hospital bed on our first night together and thinking, 'In five years you will be in kindergarten and will go to school with me.' That thought should have brought me joy, but instead it brought dread. I will not subject my child to this disordered system, and I can no longer in good conscience be a part of it myself."
Bradshaw's frustrations are shared by many, including Polk Superintendent of Schools Kathryn LeRoy, who told The Ledger that she generally agrees: "The problem is that the accountability system is smothering everybody."
In an interview with TODAY, Bradshaw called the current state of public education's focus on standardized assessment (rather than development) a "useless endeavor."
"We may teach them some things, but we also teach them to hate reading and to hate school because it becomes a chore… it's about how fast you can read 'The fat cat sat on a mat.' There's no joy in it," she said. "I just can't put my child in a system where I know they're not doing what's best for her."
In a subsequent Facebook post, Bradshaw clarified comments from her TODAY interview about these issues being "caused by poor training of teachers," saying: "Teachers coming from out of field and going directly into classrooms are poorly prepared, and the lack of professional development surrounding the new standards is troubling."
No word yet on what former Florida governor Jeb Bush would tell Bradshaw to comfort her. It's probably be something about his depressing childhood as George H.W. Bush's son.
[h/t The TODAY Show]
[Image via Facebook]
— —
>> Follow Andrew Husband (@AndrewHusband) on Twitter
Have a tip we should know? tips@mediaite.com