Former Chief of Staff Daley: Current GOP 'Dysfunction' All Started With Palin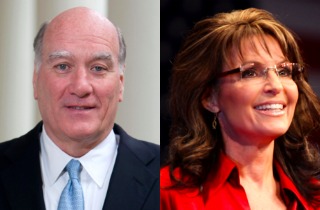 Former Obama administration Chief of Staff William M. Daley wrote an opinion piece for The Washington Post on Sunday night where he offered a direct link between the current state of the GOP and former VP candidate Governor Sarah Palin. The piece highlights how the "carnival-like GOP presidential primary" can find its roots in the lunacy of the Palin primary season alongside GOP candidate Senator John McCain in 2008.
Daley, who served as the White House Chief of Staff in 2011, writes:
Once McCain put Palin on the ticket, Republican "grown-ups," who presumably knew better, had to bite their tongues. But after the election, when they were free to speak their minds, they either remained quiet or abetted the dumbing-down of the party. They stood by as Donald Trump and others noisily pushed claims that Obama was born in Kenya. And they gladly rode the tea party tiger to sweeping victories in 2010 and 2014.

Now that tiger is devouring the GOP establishment. Party elders had hoped new presidential debate rules would give them greater control. But they are watching helplessly as Trump leads the pack and House Republicans engage in fratricide.
This is not the first election cycle that Daley notes has having been affected by the Palin magic for the Republicans. He mentions the 2012 campaign as well, and how unlikely candidates like Herman Cain and Michele Bachmann enjoyed popularity surges as well. Daley noted, "Does anyone now think Bachmann and Cain had the skills, experience and temperament to be president?". Daley offers a state-of-the-union of sorts for the soundbite culture of the current GOP state, identifying the one Vice Presidential candidate years ago who, in his opinion, started it all.
[image via Wikipedia Commons]
—
>> Follow J.D. Durkin on Twitter (@MediaiteJD)
Have a tip we should know? tips@mediaite.com