Former Sen. Arlen Specter Claims President Obama Abandoned Him After Health Care Vote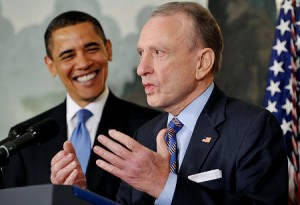 It's been a while since we've heard from Arlen Specter. The former Pennsylvania senator switched parties in 2009, then lost the Democratic primary and ended up leaving the Senate. Now Specter has a new book out claiming that after joining the Senate Democrats and becoming the 60th vote needed to bring the Affordable Care Act to the Senate floor, he was left out to dry by the Obama administration.
RELATED: Arlen Spector Likens Republican Politics To "Sophisticated Cannibalism"
Specter's memoir, Life Among the Cannibals, contains many interesting anecdotes about his political career, including a confession from Bob Dole that he would have left the GOP if he was in Specter's position, but it is Specter's retelling of how President Obama and the Democratic party treated him after he changed his alliances that is bound to attract the most attention.
Specter accuses the Obama administration of not following through in their promise to offer him their "full support" when he ran for reelection in 2010 against Congressman Joe Sestak (who ended up losing to Pat Toomey).
Specter writes that Obama turned down a request to campaign with him in the final days of the primary, because the president's advisers feared he would look weak if he intervened and Specter lost.

"I realized that the president and his advisers were gun-shy about supporting my candidacy after being stung by Obama's failed rescue attempts for New Jersey governor Jon Corzine and Massachusetts attorney general Martha Coakley. They were reluctant to become victims of a trifecta," he writes.
Specter also has some harsh words for Senate Majority Leader Harry Reid, who allegedly promised Specter he would be treated the proper seniority instead of a brand-new Democrat. Had Reid's promise been followed through, Specter would have chaired the Labor, Health, and Human Services Appropriations Subcommittee, but Specter found out in an e-mail that Reid stripped him of any seniority in the party. Specter says if he had been given the proper seniority, he wouldn't have been such a risky candidate in 2010 and could have won reelection easily.
h/t The Hill
Have a tip we should know? tips@mediaite.com
Josh Feldman - Senior Editor