Former Trump Butler Shrugs Off Secret Service Interrogation, Still Wants Obama to Be Shot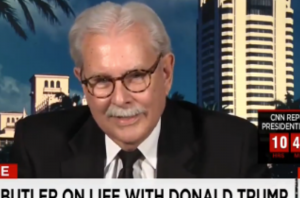 A former servant for Donald Trump's family seems to be quite unconcerned about how the Secret Service wanted a word with him about what he has suggested about President Obama.
In a phone conversation with The Martinsburg Journal, former butler Anthony Senecal said on Friday that he still believes the president is a "traitor" and a "filthy muzzie" who deserves to be executed. Senecal came into trouble last week after old Facebook postings came to light with derogatory and threatening messages about the First Family and various socio-political groups.
"I think [the Secret Service] wanted to make sure I wasn't going to go there with a rifle," Senecal said, one day after his discussion with their agents. "I told them it was too far to drive. I lived in Washington and hated it. I'm glad I got the hell out of there."
Senecal has been disavowed by Trump's campaign for his extreme statements, but he's made it clear since then that his personal viewpoints still hold up. Senecal also told the Journal that those in the military "still have the chance" to murder the president, and he dismissed the "kind of silly" questions agents asked him about whether he owned a gun or if he ever visited a mental health facility.
Senecal emphasized in the past that he does not speak for Trump's campaign, and he insisted in the interview that he kept his thoughts about Obama to himself when he was under Trump's employ.
[h/t TPM]
[Image via screengrab]
— —
>> Follow Ken Meyer (@KenMeyer91) on Twitter
Have a tip we should know? tips@mediaite.com