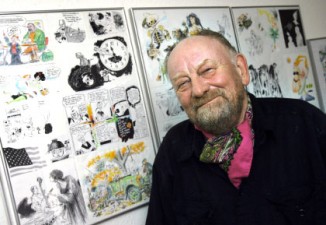 In 2005, the cartoonist Kurt Westergaard sparked world-wide outrage with a simple piece of media: the now-infamous political cartoon depicting the Prophet Muhammad with a bomb as a turban. A reviled figure in much of the Muslim world, Westergaard was attacked Friday night by a 28-year-old Somali man carrying a knife and ax. This morning, the assailant was charged with two counts of attempted murder on the Danish artist, according to the New York Times.
Westergaard has become used to the constant stream of violent threats and was well prepared for the attempted attack:
The 75-year-old artist, who has been targeted with several death threats since depicting the Prophet Muhammad with a bomb-shaped turban, pressed an alarm and fled with his 5-year-old granddaughter to a specially made safe room.

Officers arrived two minutes later and tried to arrest the assailant, but then shot him in the hand and knee when he threatened them with the ax, said Preben Nielsen of the Aarhus police.
But along with the extremity of the threat to his life, as interesting are the media-based repercussions of Westergaard's work years prior. Via the Times:
Westergaard remains a potential target for extremists nearly five years after he drew a caricature of the Prophet Muhammad along with 11 others that were printed in the Jyllands-Posten newspaper.

The drawings triggered riots and protests in the Muslim world, and Danish and other Western embassies in several Muslim countries were torched a few months later in 2006 by angry protesters who felt the cartoons had profoundly insulted Islam.
…
In October, terror charges were brought against two Chicago men who planned to kill Westergaard and newspaper's former cultural editor.

In 2008, Danish police arrested two Tunisian men suspected of plotting to kill Westergaard. Neither suspect was prosecuted. One was deported and the other was released Monday after an immigration board rejected PET's efforts to expel him from Denmark.
Work in media — especially when it comes to politics and religion — is always bound to upset someone, yet the anger Westergaard's work in particular has inspired, not to mention how long the ire has seethed, makes this an extraordinary case.
Somali Charged With Attempted Murder in Denmark [New York Times]
Have a tip we should know? tips@mediaite.com